It would be much easier to win future clients over if they could experience your design work in person. But, as a professional architect, this is rarely possible. Your architecture portfolio needs to capture your prospect's attention and help them understand how you can help them.
Some architects may be hesitant about using 3D renders in their architectural portfolio. They may feel that professional photographic images of built projects are more compelling to potential clients.
But sometimes, it's not possible to photograph your projects for your architect portfolio. As a result, in many cases, this means excluding important projects and details of your design solutions.
Fortunately, 3D rendering tools like Enscape make it easy to showcase your work when photography is not available or practical.
This article will highlight when and how you can (and should) use 3D renderings in your digital portfolio.
You'll discover expert tips to elevate your architectural portfolio and showcase your expertise and design skills while leaving a great impression on prospective clients.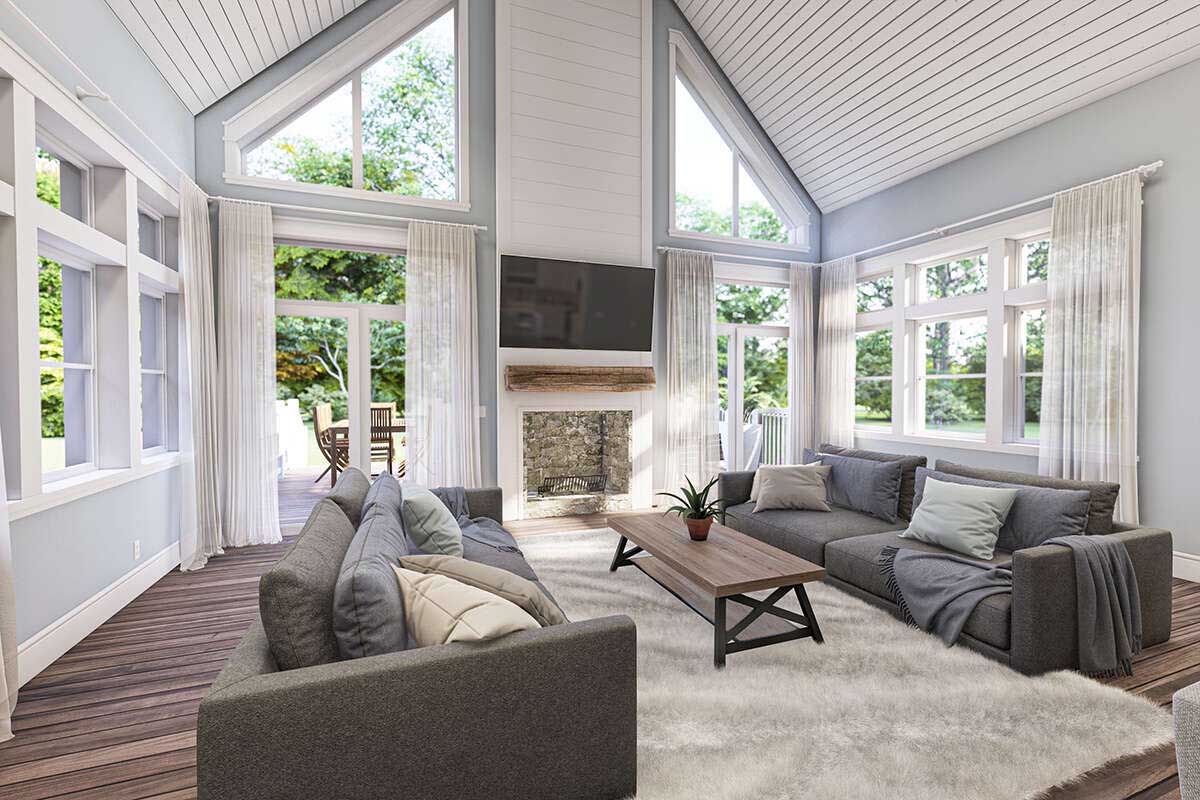 Modern farmhouse interior rendering using Enscape software by n3 architecture
Why are some architects hesitant to use 3D renderings in their architecture portfolios?
Archmark has extensive experience advising hundreds of architecture firms about their online portfolios. One question we frequently address is whether architects should incorporate 3D renderings into their websites.
The simple answer is yes, especially if the renderings are of the quality that can be achieved using tools like Enscape.
But some architects are still hesitant to use renderings, and many believe that it's better to exclude a project if professional photography is not available.
There are several reasons for this:
Client perception and expectation

: Some architects, and clients, feel that photographs of built projects are more authentic and real, as they represent the final, tangible result of their work. Renderings, on the other hand, may be perceived as representations of ideas or concepts which have not yet been realized.
Quality concerns

: While technology has advanced significantly, not all renderings are of high quality. Poorly-executed renderings can detract from the overall impression of an architecture portfolio.

Personal preference: Portfolio curation is a subjective process, and individual architects may have different preferences or beliefs about what best represents their work and style.
Tradition

: The architecture field has a long history of using photography to document and showcase completed work. Some architects certainly prefer this traditional method over newer technologies like rendering.
However, it's important to note that these hesitations do not negate the value that renderings can bring to an architecture portfolio.
When used alongside professional photography, renderings can provide a more comprehensive view of an architect's skills and vision. They can showcase projects that are still in progress or haven't been built yet, and they can illustrate design concepts in ways that photographs cannot.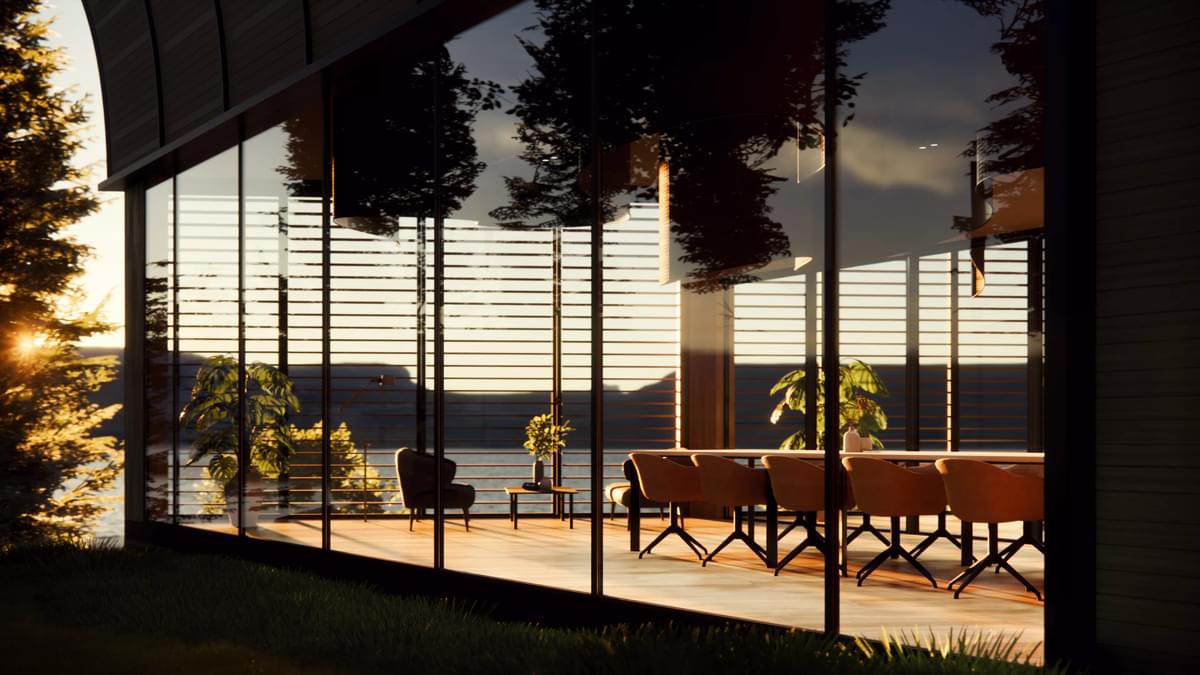 Rendering created with Enscape
How 3D renderings are better than traditional photography
While photographs of finished projects are essential in an architecture portfolio, 3D renderings offer several unique advantages that can enhance the way architectural designs are showcased.
Visualizing unbuilt projects
Renderings allow architects to showcase designs for projects that are still in progress or haven't been built yet. This can be particularly useful for architects who are early in their careers or for firms that handle large projects with long construction timelines.
Showing different perspectives
With 3D renderings, architects can create views from any angle, including perspectives that might be impossible to capture with a camera. This allows them to highlight specific design elements or show a building in relation to its environment.
Illustrating complicated design concepts
Renderings can be used to illustrate design concepts and ideas that are difficult to convey through photographs. Architects can utilize renderings to demonstrate the captivating interplay between natural light and a space as it evolves throughout the day. Furthermore, these renderings can effectively communicate the dynamic relationship between a building's design and its surroundings, exemplifying how the structure adapts to the varying conditions of each season.
Creating ideal conditions
Unlike photographs, which are subject to real-world conditions like weather and lighting, renderings can depict a project under ideal conditions. Architects can control every aspect of the scene, from the lighting and weather to the landscaping and surrounding environment.
Communicating technical details
3D renderings can also be used to communicate technical details and construction methods. For example, architects can create exploded views or cutaways to show how different parts of a building come together.
Customizability
Renderings are highly customizable. Architects can easily make changes to the design, materials, or color scheme, allowing them to test different design options or tailor the visuals to a specific audience.
Interactivity
Some rendering software allows for the creation of interactive 3D models that clients can explore on their own. This can provide a more engaging and immersive experience than static photographs.
While photographs provide a valuable record of finished projects, 3D renderings offer a versatile tool for visual communication, allowing architects to showcase their designs in ways that photographs can't.
The best architecture portfolios often include a mix of both.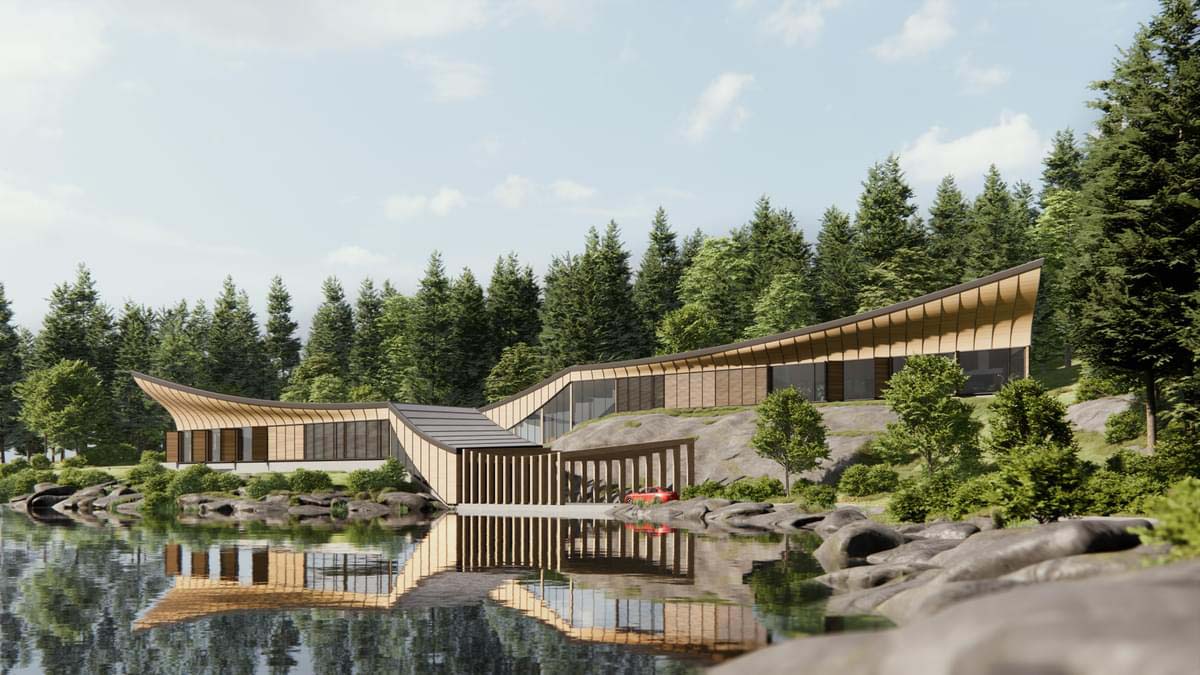 3D rendering created with Enscape
5 guidelines for crafting an effective architecture portfolio
Creating effective architecture portfolios involves more than just gathering images of your work. Here are 5 guidelines to help you craft a portfolio that stands out:
Guideline 1: Define your target audience
The first step to crafting an effective architecture portfolio is to identify your target audience. Who are you trying to appeal to? What are their needs, preferences, and expectations? Once you have a clear understanding of your target audience, you can tailor your portfolio website to suit their interests.
Guideline 2: Curate your work
Include only your very best work and most relevant projects. You may think it's best to demonstrate a wide range of projects to showcase your skills, expertise, and professional experience, however clients are more likely to hire you if they see that you have specific experience working on projects similar to theirs.
Guideline 3: Showcase your design methodology
It's not enough to simply showcase your past projects. Clients want to know how you approach your work, your thought process, and your problem-solving abilities. Including sketches, diagrams, technical drawings, renderings, and research notes can give clients a better understanding of how you work.
Guideline 4: Keep it concise
While it's essential to showcase your best work, it's equally important to keep your architecture portfolio concise. Avoid overwhelming prospective clients with too much information. Be very selective; if they want to see more of a particular project, they will ask.
Guideline 5: Think digital first
It's crucial to have an online presence. Your website and social media profiles will often be your future client's first introduction to your work. Ensure that your architecture portfolio is available online, easy to access, and mobile-friendly.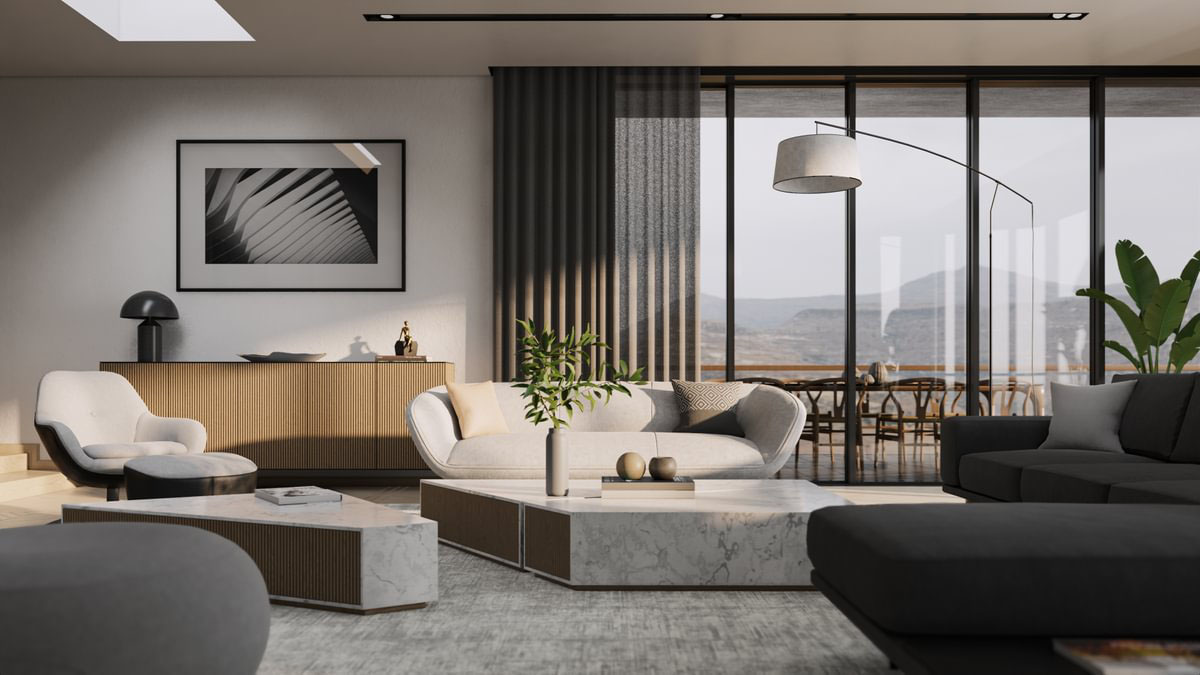 Example of a 3D rendering created with Enscape
What is the purpose of your architectural portfolio?
A top way to curate an effective portfolio website is by understanding the purpose of your portfolio. When you understand the "why" of the architecture portfolio, you can create a portfolio that speaks to that "why" with every project.
The primary purpose of an architecture portfolio is to help you attract and win ideal clients and projects.
In an ideal world, everyone would be able to experience your architectural design style in person, but that is not often practical or even possible. That's where your portfolio can rise to the challenge.
An architecture portfolio plays a crucial role in attracting and acquiring clients in several ways:
Showcases your work: The most direct function of your portfolio is to showcase your best projects, and provide a visual representation of your capabilities. This allows prospective clients to see what you can do and demonstrates the breadth and depth of your skills and experience.
Communicates your design philosophy: Your architecture portfolio is a reflection of your design philosophy and approach. Through the design projects you choose to include and the way you present them, you can communicate your unique perspective and style. This can help attract clients who align with your approach.
Demonstrates your problem-solving skills: Architecture is about solving problems using your design skills. By including sketches, diagrams, technical drawings, and notes that show your thought process, you can demonstrate your problem-solving skills.
Builds trust: A well-crafted architecture portfolio can help build trust with prospects. It shows that you have the experience and skills to deliver on their project. Including testimonials, clients' quotes, or case studies can further enhance this trust.
Differentiates you from competitors: Your architecture portfolio is unique to you. It differentiates you from other architects and can help you stand out in a competitive market. By showcasing your unique strengths and specialties, you can attract clients who are looking for what you offer.
Facilitates client engagement: An architecture portfolio website can also serve as a conversation starter with potential clients. It can spark discussions about specific projects, your design process, or potential ideas for future and similar projects.
Acts as a marketing tool: In the digital age, an online portfolio can act as a powerful marketing tool. It can be shared on social media, featured in newsletters, or used in other marketing efforts to attract prospects.
By creating a compelling and comprehensive architecture portfolio online, you can effectively attract and acquire clients who appreciate and seek your specific skills and design approach.

Your portfolio can represent the breadth and depth of your work and provide a glimpse into your design process and methodology.

It plays a crucial role in communicating your capabilities as an architect and can be the difference between landing your dream project or losing it to a competitor.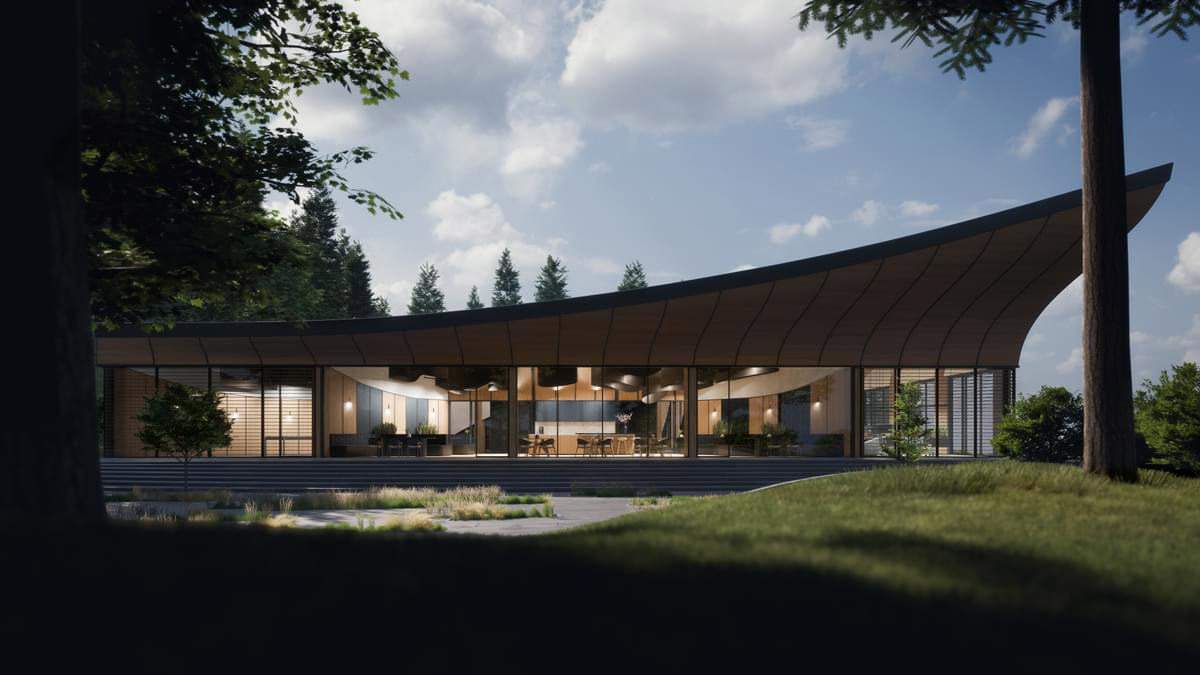 Exterior view of a modern building rendered in Enscape
Specific recommendations for architecture portfolio images
Creating a compelling visual narrative for your architecture portfolio involves more than just selecting your best architectural work. It's also about presenting your projects in a way that's visually appealing and easy to understand.
Here are some specific recommendations for choosing and preparing images for your portfolio website:
When choosing architecture portfolio images
Choose variety over repetition
Include a variety of images to show different aspects of your projects. Avoid using repetitive images that show slightly different angles of the same view.
Consider the various ways magazine articles explore architectural visuals. They include a variety of wide-angle shots, close-ups of details, and images showing the project in context.
Keep it relevant
Choose images that are relevant to the work you want to attract. If you want to do more residential projects, for example, make sure your online portfolio includes plenty of images from your residential work.
Choose high-quality images
Only include high-quality images. Blurry or pixelated images can give a poor impression and sow doubt about your capabilities.
Tell the story
Choose images that tell a story about your project. This could include before-and-after shots, images showing the construction process, or diagrammatic images that explain your design concept.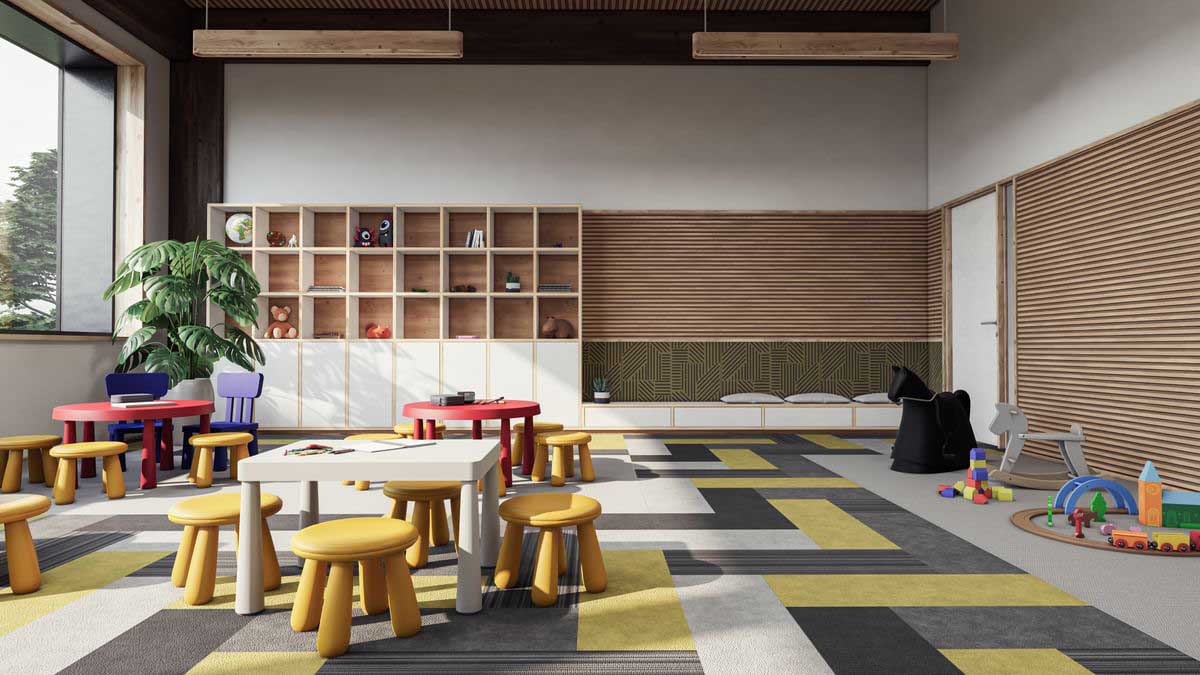 Kindergarten rendering created in Enscape
When preparing architecture portfolio images
Choose ideal image dimensions
The size of your images can affect both the visual impact of your online portfolio and the load time of your website. As a general rule, the width of an image should be around 1500-1800 pixels for full-width images on a website. However, the ideal image size can vary depending on the layout and design of your website.
Select high image resolution
The resolution of your architecture portfolio images should be high enough to look crisp and clear on all devices. A resolution of 72 dpi (dots per inch) is standard for web images. However, if you also plan to create a physical portfolio, you'll need higher-resolution images (300 dpi).
Pick the right file type
JPEG is the most commonly used file type for portfolio website images because it provides good quality with relatively small file sizes. However, if your images include text or sharp lines, PNG might be a better choice because it can provide clearer lines and text.
Compress your image
To help your website load faster, it's a good idea to compress your images before uploading them to your digital portfolio. There are many free online tools that can do this without noticeably affecting the quality of your images.
Include alt text
Don't forget to add alt text to your images. This is a brief description of the image that can be read by search engines and screen readers, helping to improve your website's SEO and accessibility.
Remember, your architecture portfolio is often the first impression prospects get of your work, so it's worth taking the time to choose and prepare your images carefully.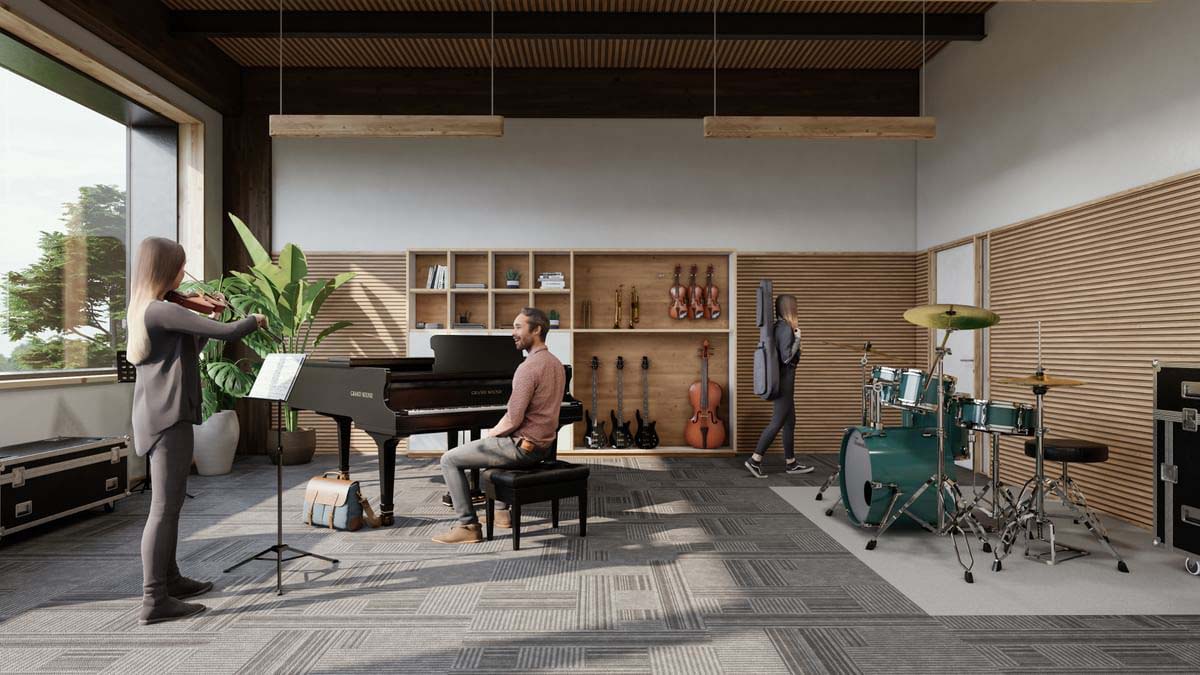 A music classroom rendered in Enscape
5 common mistakes architects make with their portfolios
Even experienced architects can make mistakes when creating an online portfolio. Here are 5 common pitfalls to avoid:
Mistake 1: Not choosing the right projects to showcase
Including projects that are not relevant to the work you want to attract can confuse prospects about your expertise and focus. Be selective and only include projects that align with your target audience's interests and needs.
Mistake 2: Adding too many images per project
While it's important to provide a comprehensive view of your projects, adding too many images can overwhelm the viewer. Be selective with the images you include and avoid using repetitive images or multiple images of similar views.
Mistake 3: Using low-quality images
The quality of the images on your portfolio website reflects the quality of your work. Avoid using low-resolution images that can't be properly viewed at the display size.
Mistake 4: Not showing design details
Relying too heavily on wide-angle views can prevent clients from appreciating the finer details of your design. Include close-ups and detail shots to fully showcase your work.
Mistake 5: Including images without enough context
Images without context can leave viewers confused about what they're seeing. Always provide enough context to help viewers understand the project and your role in it.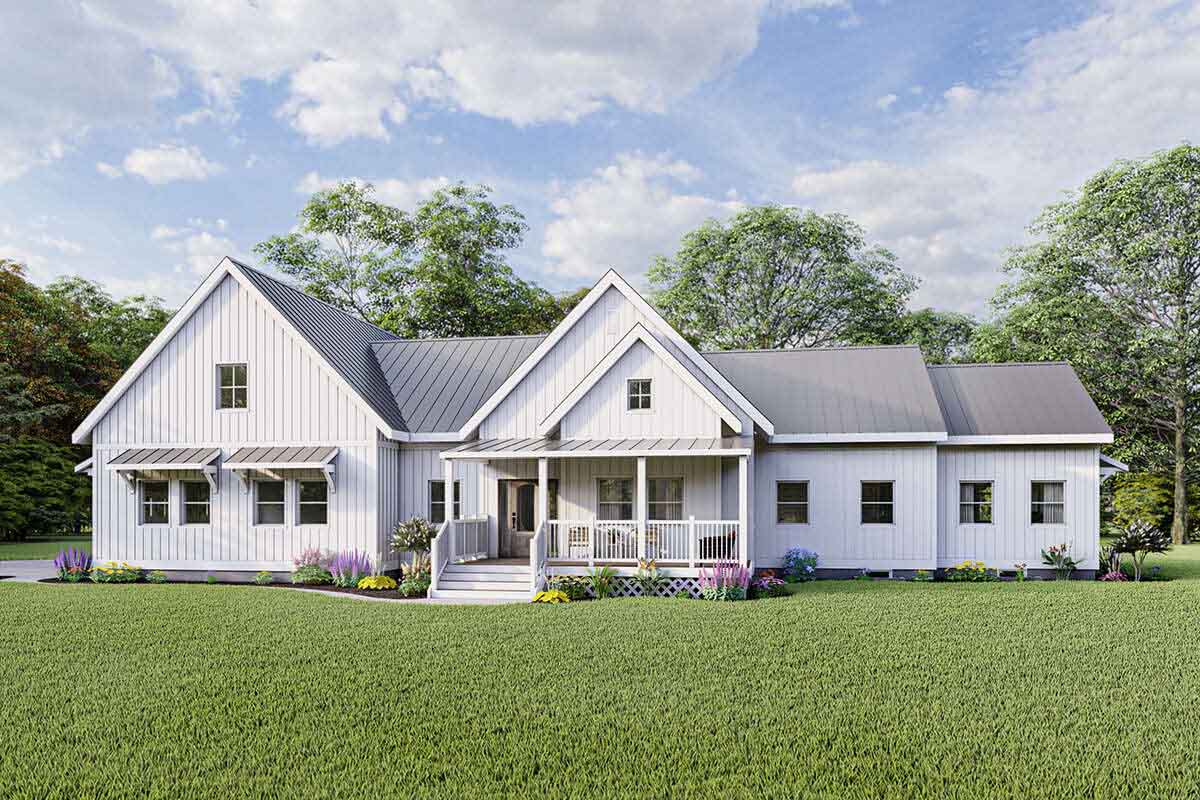 Modern farmhouse rendering using Enscape software by n3 architecture
Case study: n3 architecture
Take, for example, the startup firm n3 architecture. With only a few completed projects already photographed, Chris Novelli, n3's founder and lead architect, used Enscape software to create 3D renders of several projects for the firm's recent website re-launch.
While many of these images will be replaced once the related projects are completed, the renderings allow the firm to showcase in-progress and uncompleted work. This gives clients an overview of the design capabilities of the firm.
I love using Enscape. The plugin integration with Revit (and other software) allows me to make informed design decisions with seamless integration and also helps me to facilitate better conversations with my clients. The clients are able to have a better understanding of the design, and the real-time rendering allows me to produce many high-quality images without any substantial investment in time. The use of Enscape has drastically improved the quality of my client meetings and also marketing efforts both on my website and social media.
Christopher J. Novelli AIA, Owner | Architect at n3 architecture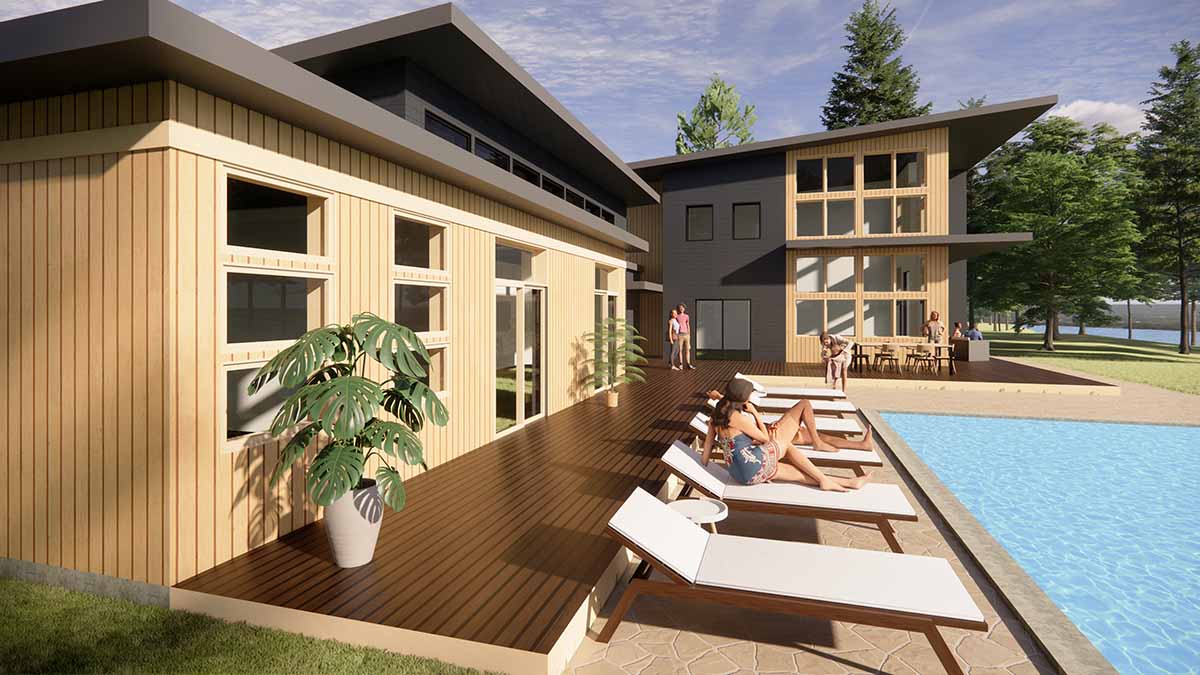 Exterior rendering using Enscape software by n3 architecture
Integrating 3D renders into your web presence
At Archmark, we specialize in helping architects improve their web presence, and there are a variety of ways that architectural renderings can and should be integrated into your web presence to provide a more comprehensive representation of your work.
Integrating 3D renderings into your architecture firm's online presence can help you showcase your capabilities and engage prospects. Here are some strategies for better integration:
Online portfolio website
Incorporate renderings into your online portfolio alongside photographs of completed projects. This can provide a more comprehensive view of your work, including projects that are still in progress or haven't been built yet.
Blog posts
Use renderings in blog posts to illustrate design concepts, explain your design process, or showcase upcoming projects. This can provide valuable content for your audience and help establish you as an expert in your field.
Social media
Share renderings on social media platforms like Instagram, LinkedIn, or Facebook. This can help engage your audience, generate interest in your work, and attract clients. Remember to use relevant hashtags to increase visibility.
Virtual tours
Use 3D renderings to create virtual tours of your projects. This can provide an immersive experience for clients, allowing them to explore your designs in detail.
Client presentations
Use 3D renderings in client presentations to help them visualize and better understand your design solutions. This can be particularly useful in the early stages of a project when the design is still being finalized.
Email newsletters
Include renderings in your email newsletters to keep clients and potential clients updated on your latest projects.
Online publications
Submit your renderings to online architecture publications or blogs. This can help increase your visibility in the architecture community and attract ideal clients.
Online competitions
Enter your renderings in online competitions. Winning or even just participating in these competitions can help raise your profile and showcase your skills.
Remember, the goal is to use renderings to enhance your online presence and showcase your capabilities. Be creative, and don't be afraid to experiment with different ways to integrate 3D renderings into your online presence.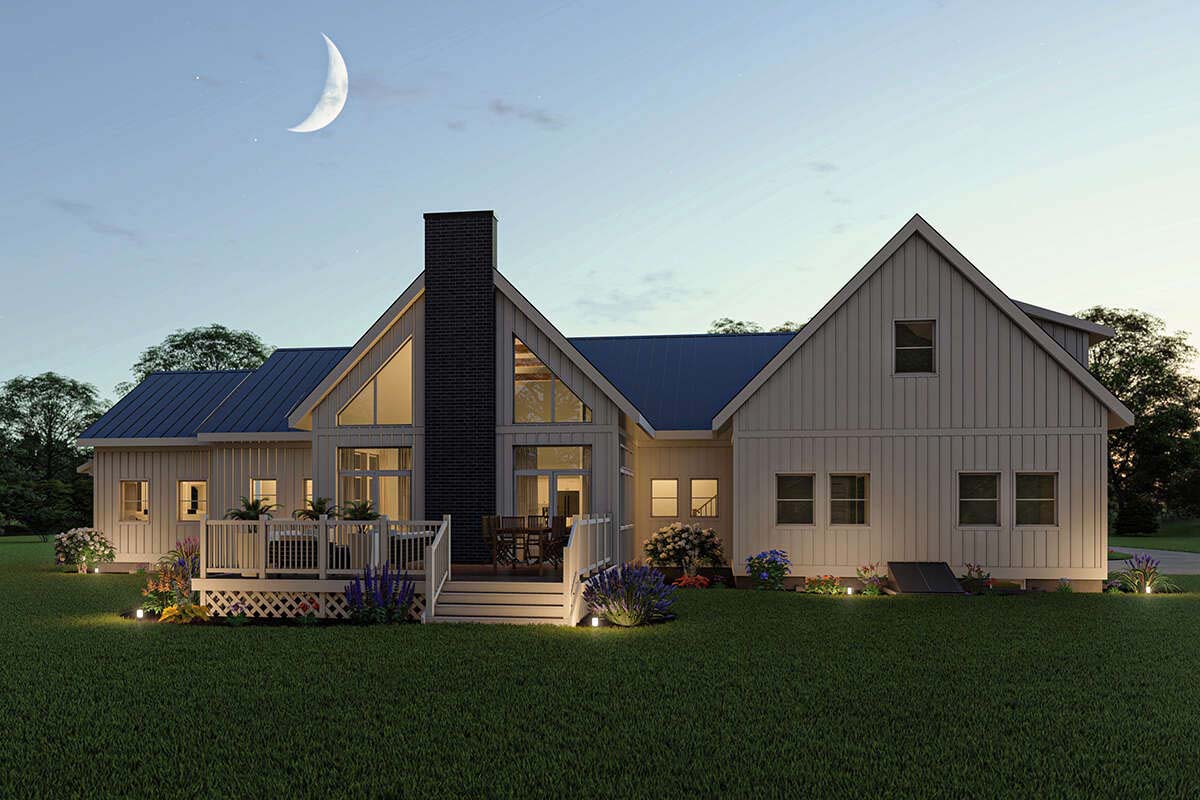 Modern farmhouse night rendering using Enscape software by n3 architecture
When done right, 3D renders add authority and credibility to your architectural portfolio
3D renders are not a sign of incomplete work; they're a testament to your creativity and technical skills.
By incorporating renders into your architectural portfolios, you can provide a more comprehensive view of your work, impress potential clients, and stand out from the competition.
The trick is to take advantage of the benefits of renders and follow our guidelines when adding portfolio images to your website.

Still feeling overwhelmed by the task of creating or changing your portfolio website?

Visit Archmark for more architecture portfolio tips, get a free website audit, or schedule a Clarity Call Consultation today.

We can help you choose the right projects, images (renders or photos), and project descriptions to attract your ideal clients and increase your chances of winning more projects.