Architecture podcasts, along with podcasts about interior design, construction, and engineering, are a great way to delve deeper into subjects that interest you.

But as there are so many, we've selected what we think are some of the best of them.

First though, a little background about podcasts and some thoughts from podcasters in the AEC space about the current state of podcasting, its future, and what people who don't listen to podcasts are missing out on.
2.9 million podcasts worldwide
Back in 2019, The New York Times asked Have We Hit Peak Podcast? Two years on, the answer is clearly not.

Whereas various website sources, such as Podcast Industry Insights, Listen Notes, and Blubrry, all report different figures for the total number of podcasts worldwide, the true figure lies at around 2.9 million.

It should, however, be pointed out that the number of podcasts with more than one or just a few episodes, as well as currently active podcasts, is a lot less. For example, a quarter (25.59%) of Apple's podcasts currently have only one episode, and only around a third (38.78%) have ten or more episodes.

Whatever the true figure, "there is a vast and ever-growing universe of podcasts, which range from the very broad to the unimaginably niche," says Scaffold podcast host Matthew Blunderfield.
More than just inspiring stories
Let's imagine though you're not one of the hundreds of thousands around the world who listen to podcasts, what are you missing out on exactly?

"​You get authentic conversation from people that are not connected to you but are into similar topics if you can find the right channels," says Art of Construction's host Devon Tilly.

TRXL's host, Evan Troxel, says that it's also about making a connection. "Podcasters become characters that we begin to care about over time," he says. "The episodes unfold and stories are told. Inside jokes are formed. Emotions are shared. Wisdom is transferred. Entertainment happens, and people get inspired sometimes. Communities are born. All of these from a podcast."

Blunderfield shares a similar opinion. "While there's a lot of noise out there, you're bound to connect with a show that speaks to your own interests and style of thought in a way that can be much more moving and intimate than is often the case with most radio or other media," he says.

For Engineering Matters' Alex Conacher it's about "the intimacy of the stories," he says. "Telling the story of a project: the frustrations, the moments of triumph... and actually hearing the emotion in the engineer's voice is a completely different experience to reading an article."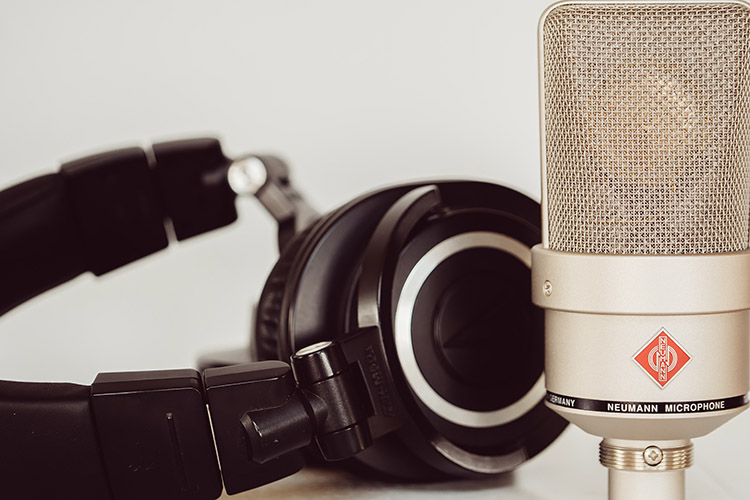 Podcasts as a non-visual medium
However, podcasts do have an obvious drawback: the absence of photos, sketches, drawings, plans, or renderings that can be easily viewed while listening. Architecture podcast hosts can include links to visuals in the resources section or show notes, but it's not ideal for the listener if they have to pause the podcast and search for images. A way around this is to "relate an idea to the listener in a way that is appropriate for the audio medium," says Conacher. "A classic example would be to describe area in terms of football pitches or similar."

The necessity for visuals also depends on the type of podcast. For Buckland Architects' director and principal architect Bruce Buckland, "having a theoretical/academic focus to the podcast, images are less important," says the Theory of Architecture host, "but I do think that it means podcasts will likely never work for more building-focussed content such as building reviews or discussions of specific works."

Yet if audio reviews were "written as well as the best architecture writing, so therefore being sufficiently eloquent in their descriptions to overcome the need for images," he says, they could work.

Buckland does note though that having an image to refer to when listening to podcasts about specific buildings would be useful.
Evolving in the future
As for the next step in podcasting, opinions differ about what form podcasts will take in the future.

Tilly thinks that there will be a "demand [for] higher quality". And in Conacher's opinion, there's no clear path for its development. "A lot of people say video, some people say it will be shorter form programming," he says. "But for me, that narrow focus takes away the flexibility of the podcast. You can listen to them almost anywhere, at almost any time."

Buckland suspects the future of podcasting will "look something like what publishing looks like now, though with a mix of funding models," he says. This will include advertising, but also paid micro-subscriptions. He also notes that "everyone's production skills are improving, so the barriers to entry will probably increase somewhat. There's also an element of market saturation. I also hope that the platforms change the algorithms to allow old podcasts to fall down the rankings and allow new ones to the top. Spotify is very good for this but Apple less so."
So, podcasts are here to stay, and in whatever form they take in the long term, there's bound to be one for you. Here are 15 podcasts that we think will pique your interest, starting with 8 of the best architecture podcasts to kick off the list.
Architecture podcasts

99% Invisible
Roman Mars hosts this long-running and popular podcast, named after a Buckminster Fuller quote. Although not an architect or designer by training, Mars hosts this award-winning podcast whose subject is the architecture and design around us that is overlooked and goes unnoticed.

https://99percentinvisible.org/
About Buildings and Cities
Hosted by design lecturer and practicing architect Luke Jones and cartographer George Gingell, the AB+C podcast explores the history of architecture, cities, and culture through literature and other media.
https://aboutbuildingsandcities.org/
Business of Architecture
In this business-related architecture podcast, architect Enoch Bartlett Sears interviews a range of industry professionals to help equip architects with the necessary insights and skills to run a successful architecture practice.
https://www.businessofarchitecture.com/podcast/
Life of an Architect
Since 2018 architects Bob Borson and Andrew Hawkins have been discussing architecture on their bi-weekly podcast, sharing their personal architecture-related anecdotes and professional practice tips.
https://www.lifeofanarchitect.com/
Theory of Architecture
Bruce Buckland started the podcast for a number of reasons. "Nobody," he says, "was having proper conversations about why we design buildings in certain ways; about why we make certain choices; about why architecture is the way it is and not other ways."
https://theoryofarchitecture.podbean.com/
EntreArchitect
Through interviews with architects and other industry professionals, the EntreArchitect podcast, hosted by architect Mark R. LePage, is designed to help listeners build a better architecture business.
https://entrearchitect.com/podcast/
Scaffold (The Architecture Foundation)
Scaffold's host Matthew Blunderfield is a photographer and teaches architecture at the Royal College of Art. He started the podcast after listening to literary and journalism interview podcasts, especially Bookworm by Michael Silverblatt, who "describes this point in a conversation where you hear it becoming 'the real thing'—where certain mysteries of the guest's work are being answered or revealed," says Blunderfield. "In starting Scaffold I think I was craving that same experience, that pursuit of 'the real thing', but in relation to architects, artists and designers."
https://podcasts.apple.com/gb/podcast/scaffold/id1345689462
TRXL
Hosted by architect and technology expert Evan Troxel since 2020, the TRXL podcast includes interviews with professionals about the role of technology in architecture and engineering. Troxel also co-hosts the Archispeak podcast with Cormac Phalen and the podcast and YouTube show Peopleverse.
---
Interior design podcasts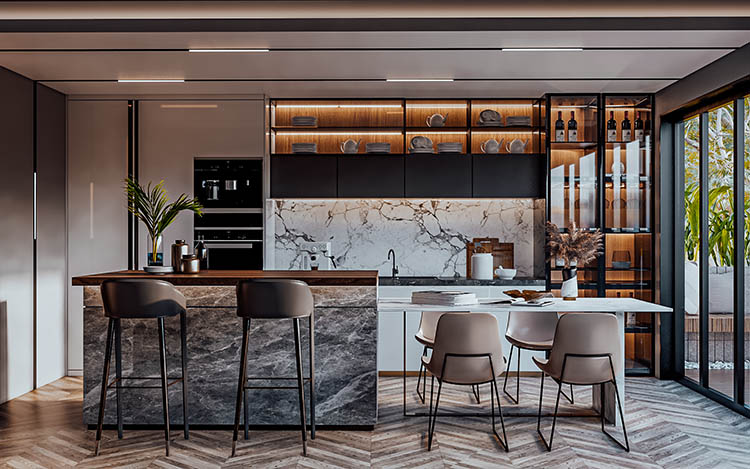 Interior rendering in Enscape by Joel Guerra
A Well-Designed Business
A long-running interior design podcast (currently 786 of them), A Well-Designed Business' host LuAnn Nigara interviews various professionals about subjects that include among many others the pitfalls, lessons, and advice when launching an interior design business and time management and productivity.
https://luannnigara.com/all-episodes/
Design Biz Survival Guide
Hosted by professional interior designer Rick Campos, the podcast takes the form of conversations with interior designers. Campos writes that the podcast is "intended to inform, inspire, and empower listeners."
https://www.designbizsurvivalguide.com/
Dear Alice | Interior Design
If you're looking to learn more about tone, style, pattern, scale, and other aspects of interior design, perhaps Dear Alice is the podcast for you. The interior design podcast is hosted by US firm Alice Lane Interior Design's owner and design principal Jessica Bennett and VP of design Suzanne Hall.
https://www.alicelaneinteriordesign.com/podcast
---
Engineering podcasts

Create the Future: An Engineering Podcast
Produced by the Queen Elizabeth Prize for Engineering, the podcast is hosted by Sue Nelson, who interviews engineers about a wide-range of topics, such as the structural engineering of the Burj Khalifa, the engineering behind visual effects in the movies, and the engineering of the moon and Mars rovers.
Engineering Matters
In each episode of this multi-award winning podcast, lead producer Alex Conacher and a co-host, one of whom is Bernadette Ballantyne (original creator of the podcast), explore different engineering projects, including one about NASA's Lunar Gateway, and interview key figures in the industry.
https://engineeringmatters.reby.media/
The Civil Engineering Podcast
One of several engineering podcasts produced by the Engineering Management Institute, the Civil Engineering podcast is hosted by Anthony Fasano, who speaks to guests about engineering-related matters that will appeal to listeners looking to develop their management and career development skills.
https://engineeringmanagementinstitute.org/cep-podcast/
---
Construction podcasts

Art of Construction
Launched back in 2014, Devon Tilly's Art of Construction explores the world of construction through interviews with various industry professionals. Tilly started the podcast because he was looking for "ways as a lifelong learner to strengthen my craft as well as become a better speaker," he says. "I couldn't find a podcast that was for connecting the construction supply channels and tech, so I started the Art of Construction!" he says.
https://www.theartofconstruction.net/aoc-podcast
BONUS: The Connected Construction Show
News just in! Trimble has announced that they are working on a new construction-focused podcast. Hosted by Matt Sprague, topics covered will include design, construction, maintenance, and operations. Keep an eye out here:
https://construction.trimble.com/en/connected-construction-show-podcast/
Recommended reading: 25+ Top Architecture and Design Magazines and Blogs to Explore in 2023