COVID-19 is arguably the largest and quickest mass transition from in-person collaboration to virtual collaboration in recent history.

Incidentally, this mass transition also came at a time when all the vital ingredients for virtual collaboration are in place: fast internet connection, explosive growth of cloud-based platforms and easy access to virtual collaboration solutions.

COVID-19 is truly a wakeup call that challenges many architecture firms to rethink their futures and is a disruption to the status-quo of many practices. This (forced) transition will change how architecture firms function for years to come.

Here at Avant Leap we analyzed how COVID-19 has been impacting architecture practices, and our observations and predictions are as follows:
Pre-COVID-19
Before COVID-19, like many creative industries, architecture has had a strong focus on cultivating a tight-knit culture and building an atmosphere that encourages frequent face-to-face collaboration. Recent graduates and young practitioners also considered firm culture a significant deciding factor in choosing where they will work next.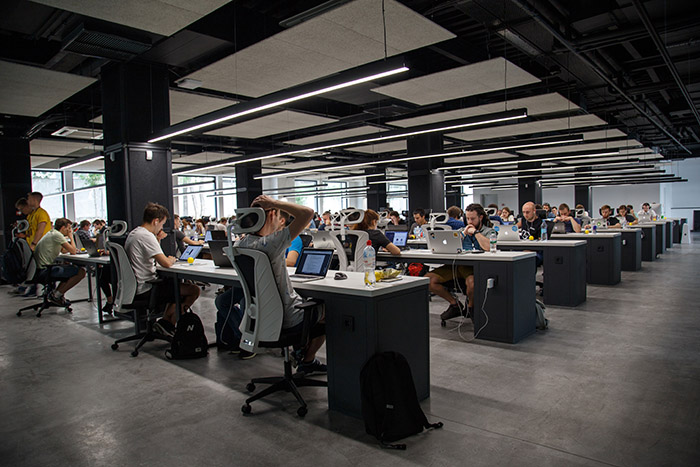 From a workflow perspective, many firms relied on the close physical proximity of people to bounce ideas, to solve problems and to get the work done. Due to the strong pre-COVID-19 economy and competitive job market, many architecture offices have either improved their offices to attract and retain talents, or they have expanded their office footprint to house a growing staff.
COVID-19 Impact
Many governments around the world announced some form of "safer-at-home" orders in the first quarter of 2020 when the COVID-19 pandemic continued to worsen, essentially forcing millions of people to transition to work from home (WFH), and the architecture industry was no exception. Overnight, WFH was no longer considered a luxury and became a necessity.
Many firms were quick to adapt by leveraging various technologies and have now realized that they can function well by going completely virtual. This shift in work mentality will greatly impact things for many years to come. Many firms will have to rethink their strategy on hiring, staff management, design process / production, IT infrastructure and real-estate.
Post-COVID-19


Hiring
With the stigma surrounding WFH mostly gone, we believe that the talent pool will become more fluid geographically post-COVID-19. Firms can now have access to a much larger pool of talents, as talents are no longer bound by their geographical proximity to the firm. Talents can also seek positions at more firms, especially prestigious firms which are usually located in first-tier metropolis cities, without having to worry about relocation or increased living costs such as more expensive housing, which were major challenges to both companies and talents.
Staff retainage can potentially increase as well, as both the firm and the staff will have the option to agree on a remote-work agreement should the staff need to relocate due to various reasons. Firms will most likely make WFH flexibility a permanent part of their office policy, with it being a more significant part of an offer package as well as it will be a top consideration for talents.
Staff Management
There is a high possibility that architecture offices (even small or mid-sized firms) will adopt a hybrid strategy where the office will be made up of on-site and remote staff for the foreseeable future. Which means, when it comes to building office spirit, culture and identity, the firm will need to plan for activities and events where people can attend both physically and virtually.
Flying people out is an option, but it is a risky option given the current circumstances and is not preferred at this point. Extra care and attention will be required to make sure the remote staff also feel like they are an integral part of the office.
Design Process / Production
When it comes to design process, it varies greatly from firm to firm, but one thing is clear: cloud-based, real-time collaboration tools are becoming the norm.
With a combination of on-site and remote staff, anything that is traditionally on paper only, such as sketches will need to become digitized so that both types of staff can contribute and so that the information can be shared easily (scanning and emailing is not going to cut it). Physical pin-up spaces where people share images, comments and sketches will also become virtual.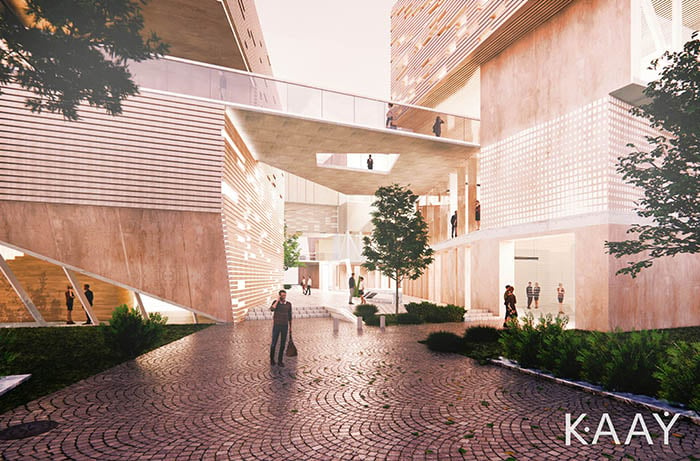 An architectural rendering created in Enscape by KAAY Studio

Real-time visualization, including the ability to share a cloud-hosted, browser-based 3D visualization model where users can add comments and annotations will be hugely beneficial to the collaboration process, as analog methods of presenting a project such as physical models will be leveraged less in the foreseeable future.
Architecture offices will rely less on printed drawings, as cloud-hosted drawings will become the standard. In fact, city building departments have started implementing paperless plan checks due to COVID-19, which we consider a very good first step towards a digital plan check process.
IT Infrastructure
COVID-19 also uncovered and highlighted gaps in IT infrastructure across many industries. Architecture is not an exemption. We have seen common challenges at multiple firms such as lack of reliable off-site access to project files and data, lack of mobility in terms of processing power and lack of streamlined digital workflow.
Firms that are currently using stop-gap solutions for remote work, which tend to have issues with integrability, scalability and maintainability, should evaluate how much productivity is lost due to the friction their staff are experiencing, as that can negatively impact profitability and staff satisfaction.
To thrive in a post-COVID-19 world, here are several areas we consider critical for firms to invest in:
Ensure Easy and Secure Off-Site Access to Information and Data
Many IT infrastructures we have seen were built with the mindset that information and data would only be accessed within the walls of the office. In fact, many offices do not even have an internal communication strategy. In order to allow for easy and secure off-site access to information and data, we recommend a firm to invest in building an intranet or wiki for internal knowledge sharing, and that project data be entered into a database that is easily and securely accessible.
Create a Mobility-Friendly Office
With laptops and tablets packing more and more processing power, the traditional concept of having massive workstations for their shear processing speed is quickly becoming outdated. In fact, laptops and tablets have outsold desktop PCs consistently for the last 10 years, including the gaming sector, which has been very much driven by processing power. The mass transition to WFH highlighted the importance of mobility, and we believe that mobility will take priority over processing power in the future as cloud-based computing matures.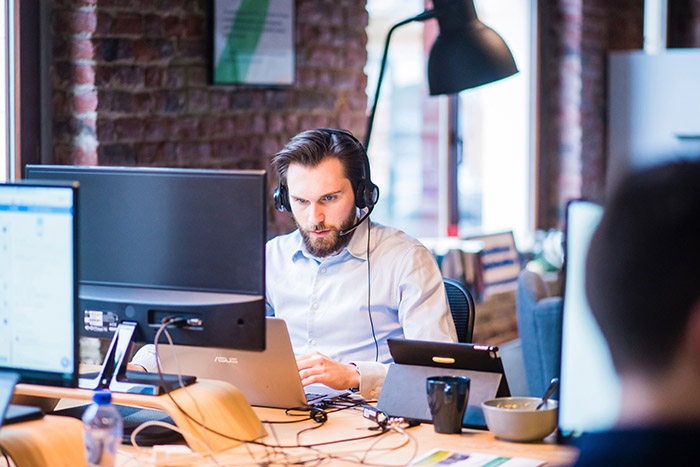 Explore Virtual Machines
For offices with an on-premise-only hardware set up, the mass transition to WFH has posed a great challenge for hardware management as it dispersed office hardware at unprecedented speed and scale. Virtual machines have the advantage of being highly scalable and easy to maintain. They are quick and easy to spin up and shutdown, and they drastically reduce the hardware requirement on the user side since the bulk of the processing happens on the server where the virtual machine is hosted. The flexibility virtual machines can provide is unparalleled and can come in handy during uncertain times, but due to the high initial setup cost, it certainly requires a firm to be of a certain size for virtual machines to make financial sense.
Migrate to Cloud-Based Storage
The mass transition to WFH also highlighted the limits and challenges of off-site connection to on-premise servers. We have heard many complaints about slow connection and file corruption due to unstable VPN connections. Cloud-based storage platforms can help mitigate that as the end-user usually has faster and more stable internet connection to the cloud server of an established provider (e.g. AWS and Google) than that of an on-premise server. Companies such as Autodesk and ArchiCAD have rolled out proprietary cloud services for hosting BIM models as well.
Real Estate
We believe that physical spaces for architecture offices are here to stay, but we will be seeing some significant changes soon. In a recent survey published by Gensler Research Institute, 35% of participants in the survey expressed that they would prefer to see increased distance between workstations. With the hybrid approach of having on-site staff and remote staff, along with flexible WFH policies, we expect density of architecture offices to decrease.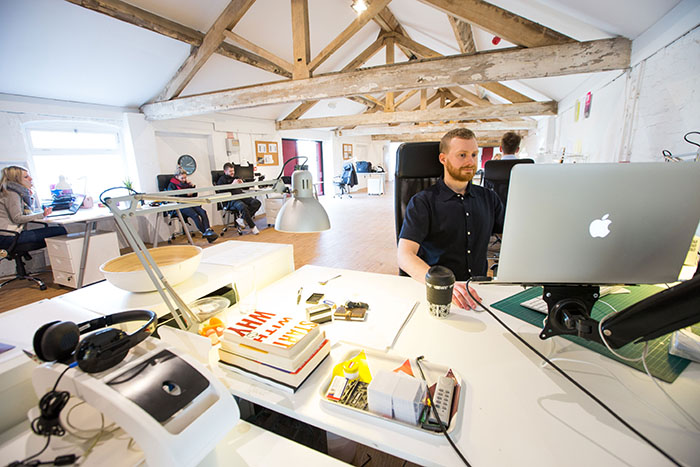 The role of conference rooms will also shift – we expect large in-person meetings to be replaced by hybrid teleconferences. Firms should consider investing in good teleconference equipment to minimize any distractions during a meeting due to technical difficulties. Analog collaboration tools such as white boards should be digitized so that remote participants can share and receive the same information as in-person participants as well.
Rise of 100% Virtual Offices
The mass transition to WFH has shown the architecture industry can function well even with 100% of staff working remotely. In fact, virtual architectural practices exist already even before COVID-19. We believe this is great news for people who are considering starting their own practice, as being virtual allows the firm to have greater flexibility for hiring, more agile scalability, as well as minimizing overhead costs.
Conclusion
Architecture offices can come out of COVID-19 stronger. By leveraging technology and flexible WFH policies, they can create a lot of opportunities to increase access to talent, staff retainage and client engagement, and to reduce overhead costs.
The wide availability of real-time collaboration and visualization platforms also allow architecture offices to be much more collaborative within the office and with multiple stakeholders.
Although COVID-19 has been a true disruptor of how architecture functions as an industry, the mass transition to WFH has proven that with flexibility and resiliency, architecture offices can operate in ways previously considered improbable.

We strongly encourage our industry to take this disruption as an opportunity to rethink how we can work smarter and better. With forward-thinking strategies, robust infrastructure, and flexible policies, we believe an optimistic horizon awaits.