Enscape is delighted to have supported ARCHINTENSIVE 2021, an Archicad-focused virtual event where specialists shared their expertise in an intensive series of 1-hour sessions in 24 hours.

In this online conference and training event, presenters revealed their best practices and discussed ways you can maximize your use of Archicad plus some of the supporting tools and technology, such as Enscape. They also provided top tips and demonstrated how workflows and processes can be improved.
This live-streamed event, organized by industry expert Nathan Hildebrandt, consisted of 24 sessions, starting from 9:00 am AEST on April 23, 2021.
I look forward to bringing the global Archicad community together, to learn from the best, to see the benefits of integrating tools like Enscape into their processes, and become more efficient and profitable.
Nathan Hildebrandt, Director, Skewed and ARCHINTENSIVE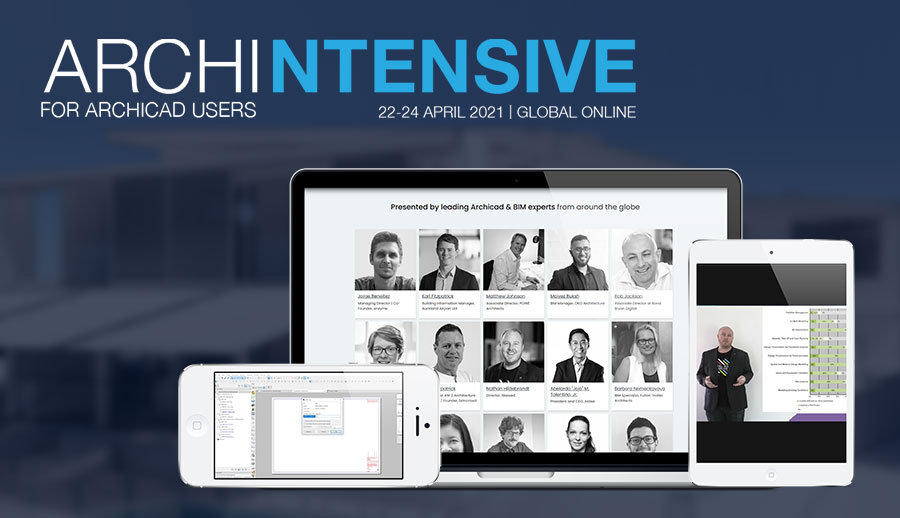 Recommended Session: Visualization Made Easy with Enscape
In session 18, event organizer Nathan Hildebrandt demonstrates how easy it is to add Enscape's real-time visualization and virtual reality tool, into your Archicad design workflow and the benefits of doing so.

Enscape plugs directly into Archicad and allows you to design and visualize instantaneously, all from within the same software. The intuitive user interface makes it quick and simple to create high-quality renders, fly-throughs, and exports. It also provides fast access to virtual reality, allowing you and your clients to fully explore your model and better understand every aspect of design.
Key learning objectives:
See how easy it is to add Enscape into your current Archicad workflows.

Learn how to create realistic materials using freely available textures.

Learn how to create high-quality images and fly-through movies almost instantly in Enscape.

See how to navigate from your Archicad file, directly into virtual reality.
Watch the session:
Now On-Demand: ARCHINTENSIVE 2021

Don't miss this opportunity to hear from leading Archicad and BIM specialists. All sessions are now available to watch on-demand.