Whether you're just getting started or have been using Enscape for a while, you may be interested in learning ways to improve the realism of your renders.
Today, we are sharing a checklist that covers a few of the essential steps you need to follow to create beautiful visuals, plus recommendations on where to find some super-handy rendering tips and tricks.
A checklist for realistic architectural renderings
This checklist highlights some of the things you can do to enhance your architectural renderings:
1. Think like a photographer
What is the story you want to tell? Think about what you want to capture and convey - for example, a moment in time, a particular season, a specific location, a feeling, a space and its intended use. Architectural photographer, Aryan Mirfendereski, believes it is important to study architectural photography for inspiration and bring certain real-world elements into your visualizations.
To always have an open and interested eye on the built environment, to observe how distances work in relation to each other, i.e., distances from me to the motif, how angles work, at what point they reveal something relevant in perspective, how light hits and passes through objects, whether the source is artificial or natural, whether the sun is high in summer or low in winter, whether it is soft, shining through a veil of clouds or shining unbroken on an object and creating shadows on the surroundings; This helps me in everyday life to practice a holistic view of the effect of these important factors in order to be able to proceed in a targeted manner when working with my camera.
Aryan Mirfendereski, Architectural Photographer
2. Give attention to the modeling details
Spend time and effort getting your modeling right - it will pay off when it comes to creating your renderings. Start working on the larger elements, such as layers and components, and then move on to the smaller details. If you're a SketchUp user, making use of components will help to keep your model light. SketchUp provides some great tips on how to optimize your model for improved performance on their Help Center. If you're a Revit user, check out this article by Nicolas Catellier - 7 Tips for a Smooth Link Between Revit and Enscape.
3. Capture authentic images without weighing down your model
Your choice of object (asset) affects how you capture good images since high-quality assets can weigh down your model. Pay attention to details like geometry and texturing and understand how to work with proxies. Enscape allows you to import your own custom assets, and also provides realistic yet lightweight 3D objects that you can drop straight into your rendering or directly into your model. These can be found in the Enscape Asset Library.
4. Understand the balance between light and dark
Whether using artificial or natural light, getting the balance right is fundamental to creating great-looking renders. In his article on how to create realistic renderings, Pablo Correa, an architect, 3D artist, and YouTuber explains it like this:
Understanding the elements that make up the lighting of a 3D scene is indispensable for making good renderings. The observation and consideration of each element of a photograph will help you reproduce natural or artificial light in a virtual environment with more realism.
Pablo Correa, Architect and 3D artist

In this tutorial (which has been viewed over 240,000 times!), Vlad of Modulus Render walks through how to take a photographic approach to lighting and rendering in SketchUp and Enscape.


5. Use high-definition textures
High-quality textures can add a whole new level of realism to your renders. Pablo explains that "poor quality is the # 1 downfall of 3D textures ; this encompasses blurry, undefined, extremely small or pixelated textures. You should strive to find high-definition textures for every project."
We recommend using 2k or a maximum of 4k resolution for your textures. Any higher, and you may notice that the quality is automatically downscaled by Enscape so that it can continue rendering in real time.
Plenty of sites provide incredible textures that you can utilize within your renderings. Take a look at this article to discover a few of them:
7 Great Places to Find Free Rendering Textures
6. Find the right angle

Refer to architectural photographs to understand the angles used to capture a scene. Two-point perspective and field of view are important to get right.
Using the wrong field of view (FOV) for a certain type of scene, internal or external, can compromise all the work you have done so far. Search which FOV professional photographers use in their images. Particularly, I like to use values between 18 and 35 mm for a professional effect.
Pablo Correa, Architect and 3D Artist
7. Add the finishing touches
Before rendering your image, take another look at your model, the lighting, the textures, camera position, and visual settings. Check for things like flying objects, grass that is overhanging a floor area, and visible clashes.
Check that the
3D assets
you have included enhance the scene and do not take attention away from the elements you want to draw the eye towards. When you're ready, click that render button! With Enscape, your rendering will be produced in a matter of seconds. It really is rendering magic 😃.

Read these architectural rendering tips in full in the article: 7 Essential Steps to Creating Realistic Renderings, and download the checklist below for easy reference.

Rendering learning resources
The checklist above provides some quick and easy wins when it comes to producing renders. But if you're looking to sharpen your skills even further, there are plenty of excellent resources that you can refer to.
YouTube
YouTube is a treasure trove of learning content and is well worth a search if you want to perfect a certain element of your renders or rendering workflow. A good place to start is the Enscape channel which is regularly updated with how-to and get-started videos, plus tutorials created by the Enscape community.
Be sure to check out the step-by-step tutorials created by Melos Azemi (Scale), Vlad Moldovan (Modulus Render), and Show it Better to name just a few, which are packed full of rendering goodness.
Enscape Content Hub
You are hopefully already familiar with the Enscape Blog (you're on it right now 😉), but did you know that we have one central place where you can find all of our articles, guides, webinars, and other great content pieces? We call it the Content Hub. Sign up to our newsletter and join over 300,000 people who keep up to date with our latest content and biggest news.
Articles
Speaking of the Enscape Blog, we often cover rendering best practices that are shared by architects, designers, 3D artists, and our own visualization experts. With over 200 published articles, there is a lot of insightful and inspiring content to explore. If you're particularly interested in the topic of creating realistic renders, take a look at these:
Webinars
No list of learning content would be complete without a special nod to our webinars. We regularly host architectural visualization and rendering webinars on a range of topics, such as conceptual rendering, using PRB materials with Enscape and Adobe 3D, Enscape realistic render settings, and importing custom assets.
You can find all of our upcoming and on-demand webinars here.
Where to find inspiration
To close, I would like to share some advice from Vlad Moldovan, the architect and senior CGI artist behind the popular YouTube channel Modulus Render.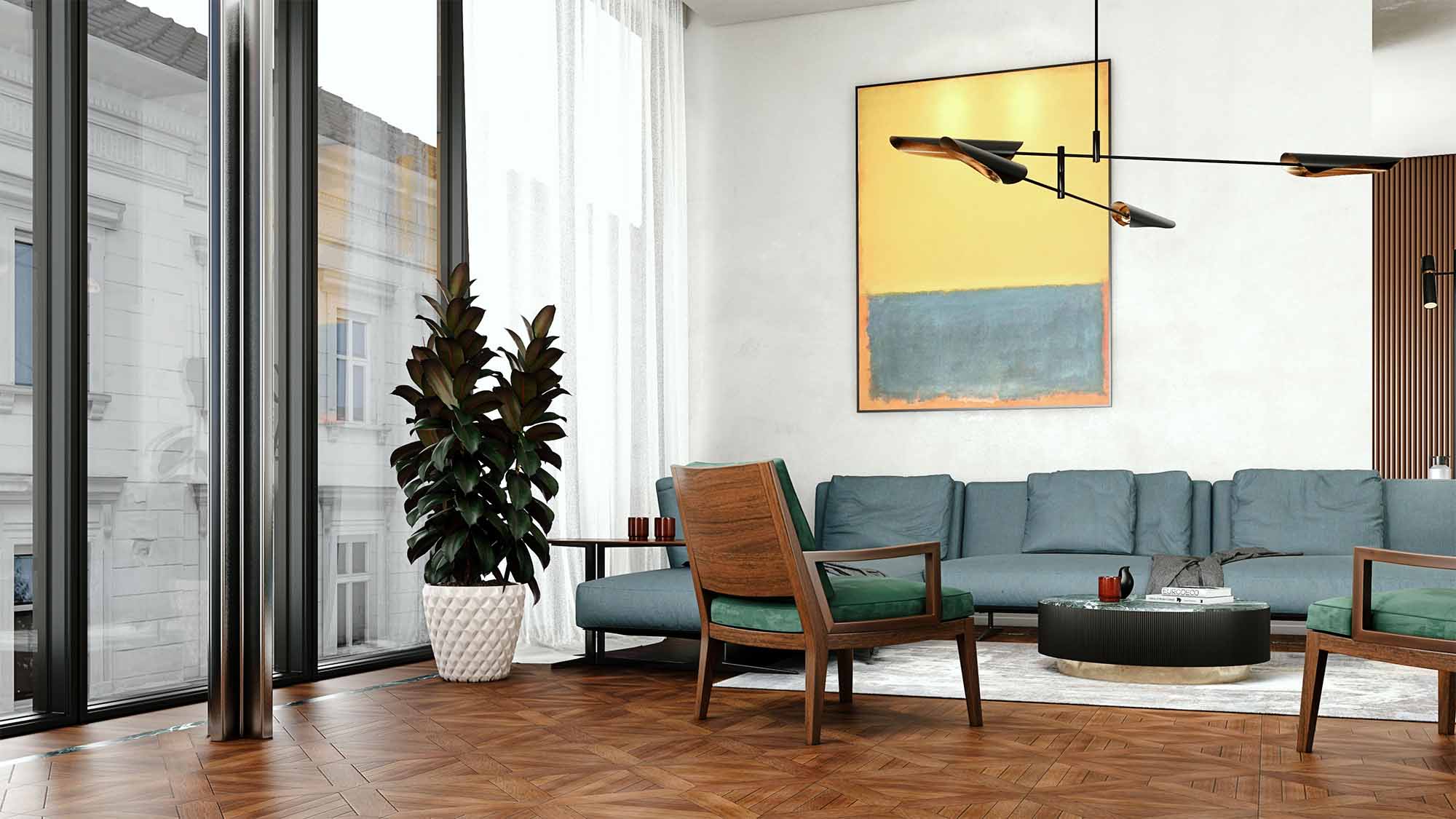 Below, Vlad shares his thoughts on what Enscape users can do to up the quality of their renderings.
The biggest tip I can give someone who is working on a project and trying to improve their rendering game is to stop looking at other renders for inspiration. This helped me enormously when I started implementing it into my workflow.

I started looking only at professional photography (interior or exterior). I was looking at lights, shadows, materials, colors, framing, object placement etc. I was dissecting and analyzing every photo to understand how to achieve that mood. If you only look at other renders you will lose a lot of important details that would benefit your work and development as a 3D artist.

I always take some time to make a personal project where I take a photo I like. I try to analyze it and then replicate it in 3D to see how I can get the same lighting and mood in my image. This way, you get a better understanding of materials, colors, lighting, and basically all the ingredients you need to create a great render.

I'll leave you with a list of some of my favorite photographers:
Kristofer Johnsson
Stephen Kent Johnson
Andrea Papini
Norm Architects.

I hope this helps. Have fun rendering!

Vlad Moldovan, Architect and Senior CGI Artist