With 85 out of the top 100 architecture firms using Enscape, there are many reasons why customers love to use our real-time rendering tool.

In case you didn't know, Enscape is a real-time rendering and virtual reality solution for architects and designers who need to quickly create realistic and accurate renders to visualize their designs. It's wonderfully simple to use, and delivers outstanding results very fast.

I recently asked a few of our customers what they loved most about rendering with Enscape – take a look at what they had to say!
1. It works directly within your CAD / BIM tool
One of the beautiful things about Enscape is that it integrates directly into your CAD software. Whether you use Revit, SketchUp, Rhino, Archicad, or Vectorworks, you can quickly create high-quality renders, 360-degree panoramas, animated walkthroughs, and even access your project in virtual reality, all without having to leave your design program.
"Our in-house design team works in Revit. Having the ability to access Enscape directly within Revit is extremely beneficial to us, not only as model interrogation, but also to produce realistic CGI's (computer-generated images)/videos that we can offer to planners and the public if and when needed." Tom Cannon, Group BIM Manager, Hill Group UK
What's more (and this is often a favorite amongst architects and designers) – any changes made to your project through your CAD, can instantly be seen in your Enscape render and in virtual reality. YES – it's true! With Enscape's live link, your planning data and your 3D visualization can work side-by-side, allowing you to see the impact of every change that you make, the moment you make it.
"I love the instant connection between your CAD app and the Enscape model, it just makes archviz a lot easier working with two monitors." Yannick Douw, douwdesign.com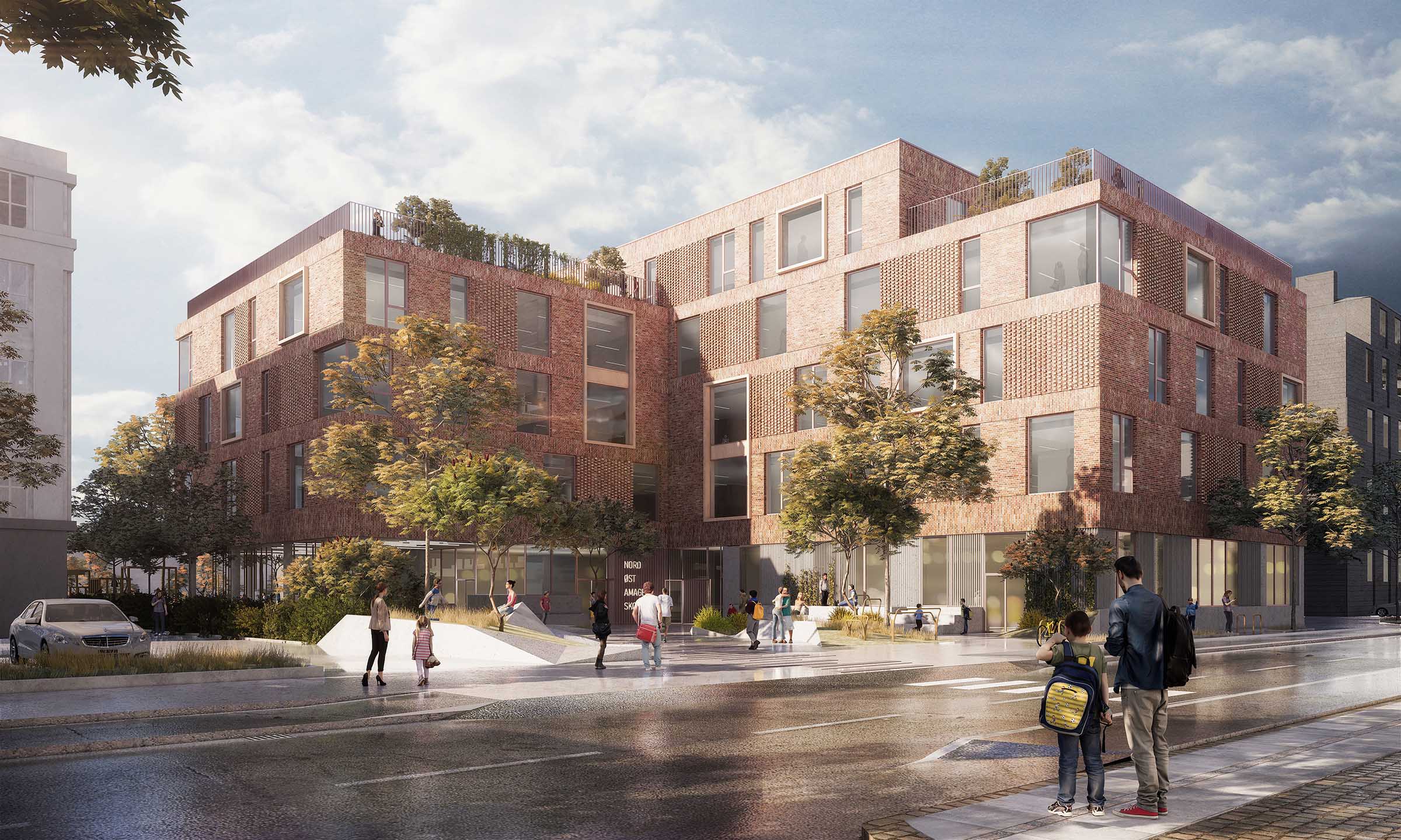 Enscape rendering credit: Vilhelm Lauritzen Architects, Nord Architects, Lasse Herbo Madsen

2. It works fast - with impressive results

With real-time rendering technology, gone are the days where you had to wait hours for a single image to render, or even outsource your renders which would add significant lag times to your workflows.

Now, thanks to Enscape, you can instantly create a 3D visualization in a matter of seconds. With just one click, your planning data is automatically transformed into a realistic render – particularly handy for when you want to reality-check your design or quickly prepare for an internal or client presentation.

Plus, by utilizing NVIDIA's RTX technology, Enscape is able to calculate lighting and reflections at considerable speed, giving our users impressively detailed and accurate renders in no time.
"I just love that Enscape makes me look good. It's fast, easy, and most importantly, powerful. I am now getting jobs because of the ability to get quick turnarounds on projects for our clients and at a very high quality." Steven Garubba, Architectural Designer, Criterion Workshop.
Night-time rendering by Enscape users Kylie & Steven Garubba
3. It's easy to catch mistakes before construction starts
By enabling you to test-drive your design at any stage of the design process, using a real-time rendering tool such as Enscape, makes it easier to spot things that you may not necessarily have noticed on paper. For architect Jeremy McCrate, it helps him to test a project more thoroughly, especially before construction starts.
"For us, it works as a great rendering software that cuts the production time down tremendously while also opening up the possibility to everyone. The ability to generate, at the push of a button, quality rendered views directly from Revit or Sketchup in seconds frees up more time to refine our design.

Enscape is also useful throughout the design process as it allows the user to quickly see the project from a human perspective that is hard to relate to on paper. This helps us test the design solution more thoroughly. I find that walking a Revit project in Enscape helps me catch mistakes that might not appear until construction. Enscape is a tool that every BIM designer should have ready at their fingertips." Jeremy McCrate, KKT Architects, INC
4. Virtual reality brings a project to life
Enscape is the only architectural virtual reality tool that directly integrates into CAD and BIM software. With just one click, Enscape automatically converts your file, allowing you to walk through your model in virtual reality. The results are incredible, and no specialist skills are needed.

Providing this immersive experience to colleagues, clients and stakeholders enables a far deeper understanding of your design intent, and helps to speed up decision making considerably.

Some early adopters of virtual reality may have been stung by the high costs and long waiting times involved with converting their project into a VR model. But with Enscape, it's simple, fast, and included in the cost of every subscription – no additional charges here!
"Enscape has enabled us to move our design reviews into VR, with the lead architect or the client in the VR headset and the rest of the team watching what they are seeing on the monitor. The reviewer is able to be in the virtual space while experiencing what is in the actual Revit model.

Our clients always react with great enthusiasm at being able to experience their project years before completion. It is reassuring to them that they are walking around in the actual model from which we will create the working drawings. This allows us to get approvals on the designs much quicker and with more confidence than in years past. It has made such an impact on our process that we now have multiple mobile VR setups so that we can bring that experience to clients." Steve Fong, BIM Manager, Overland Partners Inc
5. Clients love what they see - and feel
Communicating a concept can sometimes be a challenge – especially to clients and stakeholders who may not be used to thinking three-dimensionally. But with realistic architectural renders, video walkthroughs, and virtual reality all a simple possibility with Enscape, you can provide experiences like no other, and ones that your clients will love.
"Here at LS3P, Enscape is a vital tool to visualize design ideas and concepts in real-time whether it be in Virtual Reality or viewing the Revit/Sketchup model side by side on dual screens. The rendering quality and speed has enabled us to quickly save high-quality images for client presentations and publications and allowing us more time to design. The portability Enscape provides by allowing you to export the model and bring it to a meeting or presentation has helped us reinvent our methods of project workflow and delivery. Clients have responded very positively to seeing their projects three-dimensionally represented and allowing them to interact with the design team in a setting where all the decision-makers can understand the design from any angle or time of day in a realistic representation." Hal Shute, Associate Principal & 3D Specialist, LS3P
Modern building design by Enscape user Alexdu
6. It's incredibly easy to use
Ease-of-use is always at the forefront of the minds of the Enscape engineering team. Once installed, Enscape appears within your modeling software's toolbar. From here, you can see your model as a stunning, photorealistic visualization in just one click. It really is that simple.

And once you've created your render, you can easily make adjustments if, for example, you decide that a certain material isn't right, or if you'd like to see how artificial or natural lighting would appear at different times of the day.

Plus, to keep things as simple as possible, included with your Enscape license is access to the Asset Library, which houses over 3,000 3D assets that have been created by our design team – and that list keeps on growing! There is also a built-in material library. So you have an incredible array of vegetation, entourage, objects, materials, and more to choose from, all from within your modeling tool.
"What inspires me is the ease of use. I am impressed in how easy it is to open the render, see a material doesn't match the texture, color or finish required. I make the change in the material library in Revit, update the properties and images and snap! It's done! I view it in Enscape, as near to live as possible, that's more real than Revit natively. Now, the library is updated, the render looks good and I feel happy!" Pierre Venter, BIM Manager, BIM Initiative
See for yourself what you can do with Enscape
Enscape's rich features, rapid performance, and affordability make it a real-time rendering tool of choice across the AEC industry. And being so easy to use, with no training required, it's easy to see why Enscape has become a standard application in thousands of projects worldwide.

To start creating ultra-realistic renders yourself, take out a 14-day free trial and let us know how you get on!


Featured blog post image credit: Enscape user Lasse Herbo Madsen. Many thanks!