2023 is shaping up to be a huge year for architectural visualization. The development of 3D design, VR, and augmented reality are all racing ahead. New opportunities are arising to visualize projects, present designs, and impress clients.
Architecture is a field where innovation never sleeps. More than ever, architects need ways to make an emotional connection. They need to build trust, explain complex ideas, and offer services beyond the conventional.
That's where visualization becomes all-important. Firms that embrace 3D trends are likely to thrive, giving them a huge competitive advantage. With that in mind, here are some of 2023's most exciting architectural visualization trends.
1. 3D project showcases
Models and slide presentations are no longer the only ways to introduce design concepts. Thanks to architectural visualization technology, architects can now present their designs in immersive 3D. Real-time rendering for example turns lifeless 3D plans into living environments that are easy to interpret. This enables customers to tour future projects, interact with virtual spaces, and get a much better idea of the proposed design.
The progress of computing power means that architectural models can be incredibly complex. With rendering tools like Enscape, architects can rapidly translate CAD and BIM designs into rendered environments that supply immersive viewing experiences.
These experiences can start with simple white mode renderings and orthographic views to demonstrate design ideas. Architects can also walk clients through spaces virtually and provide standalone files that clients can explore on their own devices.
Animations explain how people can use and navigate spaces. 3D panoramas provide 360-degree views, while clouds, time of day, and lighting effects make spaces feel extremely realistic. The possibilities are endless.


2. Fast and accurate 3D-printed models
Traditional models aren't dead, far from it. But they are evolving. Some firms, such as M Moser and Associates, use virtual mockups since they are cost-effective and quick to produce. Others are experimenting with 3D printing.
One of the 3D trends in 2023 will be the availability of cheap, fast, and extremely accurate 3D model printing. Hand-made models come with high overheads in terms of money and time. But affordable 3D printers are a game-changer.
Today's 3D printers can turn an architectural 3D model into an accurate replica. They can handle complex geometries and give the option to customize the shape and texture of designs.
3. VR collaboration
Virtual reality has been a mainstay of archviz trends for quite some time. In 2023, VR will shake up the way firms collaborate.
Virtual reality tools allow team members to communicate their visions and make suggestions in real time. Teams can inhabit virtual replicas of their creations and combine their talents in totally new ways.
VR also suits the modern remote workforce. Firms with globally distributed workforces can use one-click virtual reality tools such as Enscape or VR apps to facilitate collaboration.
Designers around the world can feed in their ideas. Clients can visit virtual prototypes and tour buildings during the design phase. The result will be immersive architectural visualization that serves architects and customers alike.


4. Rich archviz with real-life effects
The technology behind 3D architectural visualization is also stepping up a level. Lighting and textural effects continue to improve and make archviz richer and more visually impressive than ever.

The way we use light in visualizations is critical. Lighting effects make spaces come alive. They focus attention on essential features and turn a bare architectural render into something clients can experience.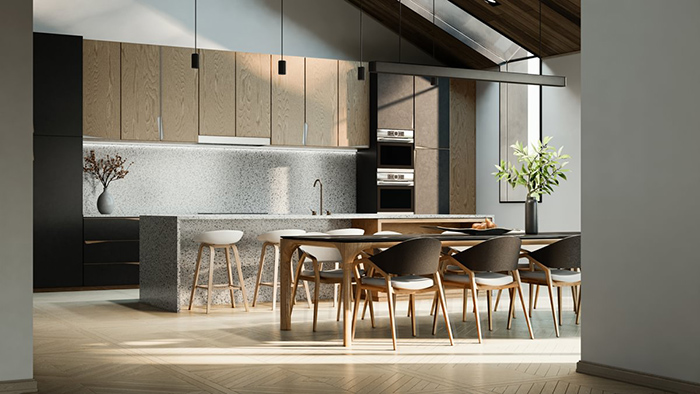 Rendering with realistic lighting, created in Enscape

Rendering technologies allow light mixing that mimics the real world. Each render can incorporate many lighting designs. Designers can craft a mood that suits every project or create seasonal effects with ease.

The same applies to volumetric effects. Architects can now use 3D rendering tools to generate convincing weather effects or interior features like a gently flickering fireplace. Imagine setting a home design in winter snow and summer sunshine or emerging from the mist in autumn. With 3D visualization, anything's possible.
5. Smart workflows to smooth the design process
Important 2023 trends aren't all about visual effects. Architects can also expect quality-of-life improvements to make creating visualizations much simpler.

True real-time rendering tools allow architects to remodel designs on the fly. Plugins like Enscape allow designers to test different concepts quickly and easily, improving the quality of their output and speeding up decision-making.
Designers can enrich interiors easily with the help of built-in asset libraries but also with 3D modeling studios like cgtrader. Order 3D objects in bulk and stock homes with realistic objects without the need for in-house model creation. Architects and designers will be able to focus on getting the big picture right with high quality ready-to-use 3D models.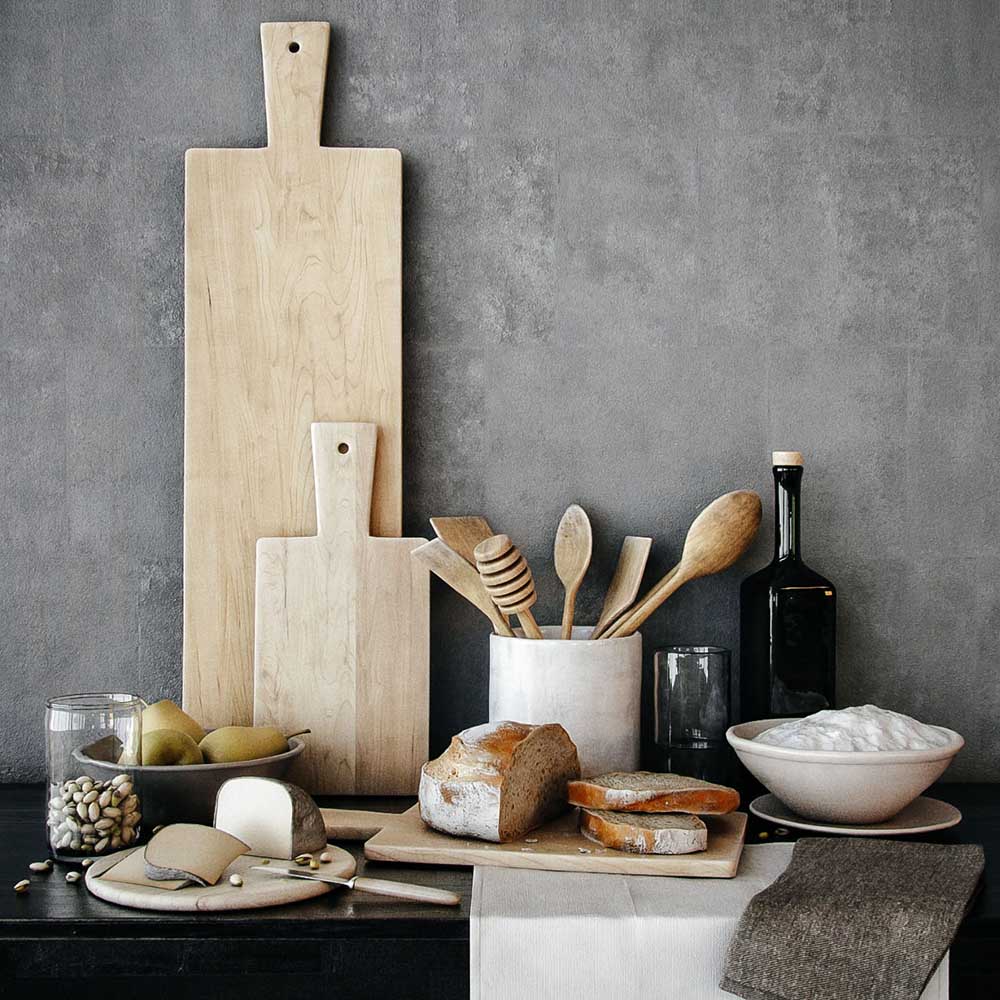 Example of 3D decorative kitchen model pack from cgtrader
And the back end is changing thanks to cloud rendering. With tools like Chaos Cloud Rendering and V-Ray, studios can process rendering in the cloud, taking advantage of massive off-site processing power. The cloud will boost rendering speeds for photorealistic renders and liberate even more time for creative tasks.
Workflow improvements also continue with new compatibility between rendering tools. Enscape and V-Ray have recently announced the ability to transfer compatible Enscape elements to V-Ray, for faster workflows in the final stages when producing professional architectural visualizations.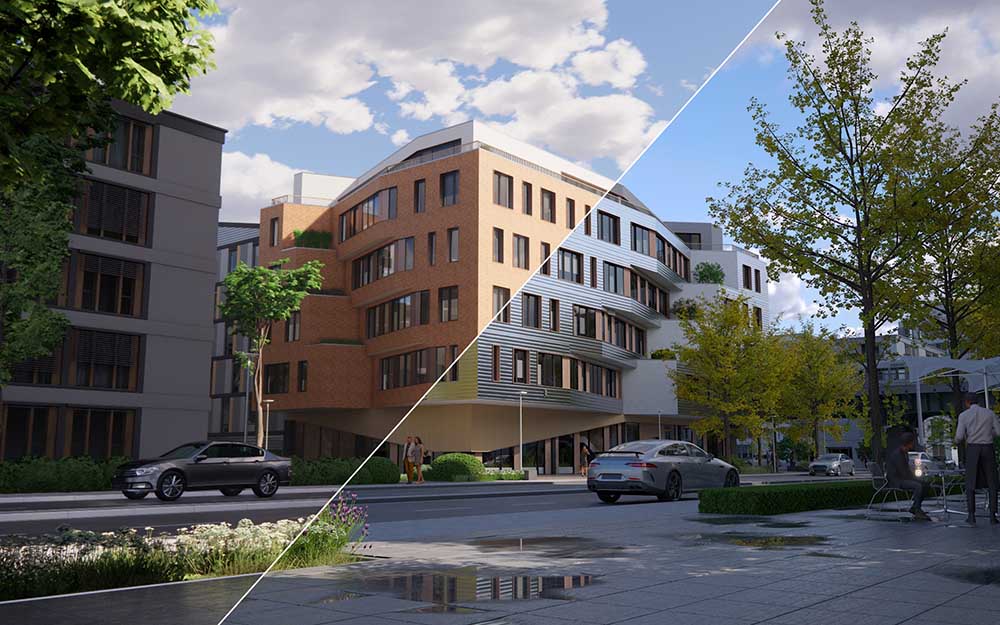 Enscape render, left. V-Ray render, right.
Visualize success in 2023 with 3D technology
This is an exciting time in the architectural visualization field.
Immersive 3D offers new ways to immerse clients in our creations. Processing power opens up new vistas for 3D effects, real-time rendering, and VR collaboration. And 3D printing becomes more efficient every day.
Embrace the future with these key trends and take your architectural practice to another level in 2023.


Hero image credit: Tropical Villa by Sang Bui