The use of technology is becoming more mainstream as designers adopt new practices to aid their creativity and portray concepts in new and exciting ways.
From hi-tech software to mobile apps and everything in between, technology is improving the design process and making it much more accessible – to designers, architects, students, builders, and clients.
Let's take a look at a few ways designers can make use of technology.
1. Explore every angle with 3D scanning
Designing a room or renovating an existing space? 3D scanning technology can help by scanning, measuring, and providing an accurate 3D digitized model of a space or a highly-detailed 2D floor plan.

With either a 3D camera (such as a Matterport) or a scanning app on a mobile device, designers can swiftly scan a room from all angles and then reproduce it on screen in minute detail.

Measurements are quickly calculated, and with an app such as Canvas, these scans can then be exported directly into SketchUp or Revit. This can save designers a significant amount of modeling time and allows them to move straight onto making the necessary adjustments in their design file.

Take a look at Joseph Kim's review of Canvas in his video review below to see how this technology works for interior spaces (Joseph has also created a video on scanning rooms with Matterport and the Insta360 ONE X2 device which you may find of interest).


2. Immerse yourself in virtual reality
Virtual reality (VR) is a way of experiencing a situation or place without actually being there. Using a VR headset connected wirelessly to your computer, you are transplanted into a rendering of a particular place. You can walk around the space, turning your head in all directions, while physically being somewhere completely different. It uses gyroscopic sensors to allow you to interact with your surroundings.​​

In the past, this sort of technology was used most commonly in gaming, but over the past few years, many sectors have adopted practical uses for this technology. Healthcare is a popular case where it's proving to be a valuable tool as well as being the perfect tool to visualize interiors, with several TV programs already using it for designers to show their clients exactly how they picture their home looking after a makeover.

It used to be seen as an expensive piece of kit, but with VR headset prices decreasing as demand rises, it is now a much more accessible option for interior designers at all levels.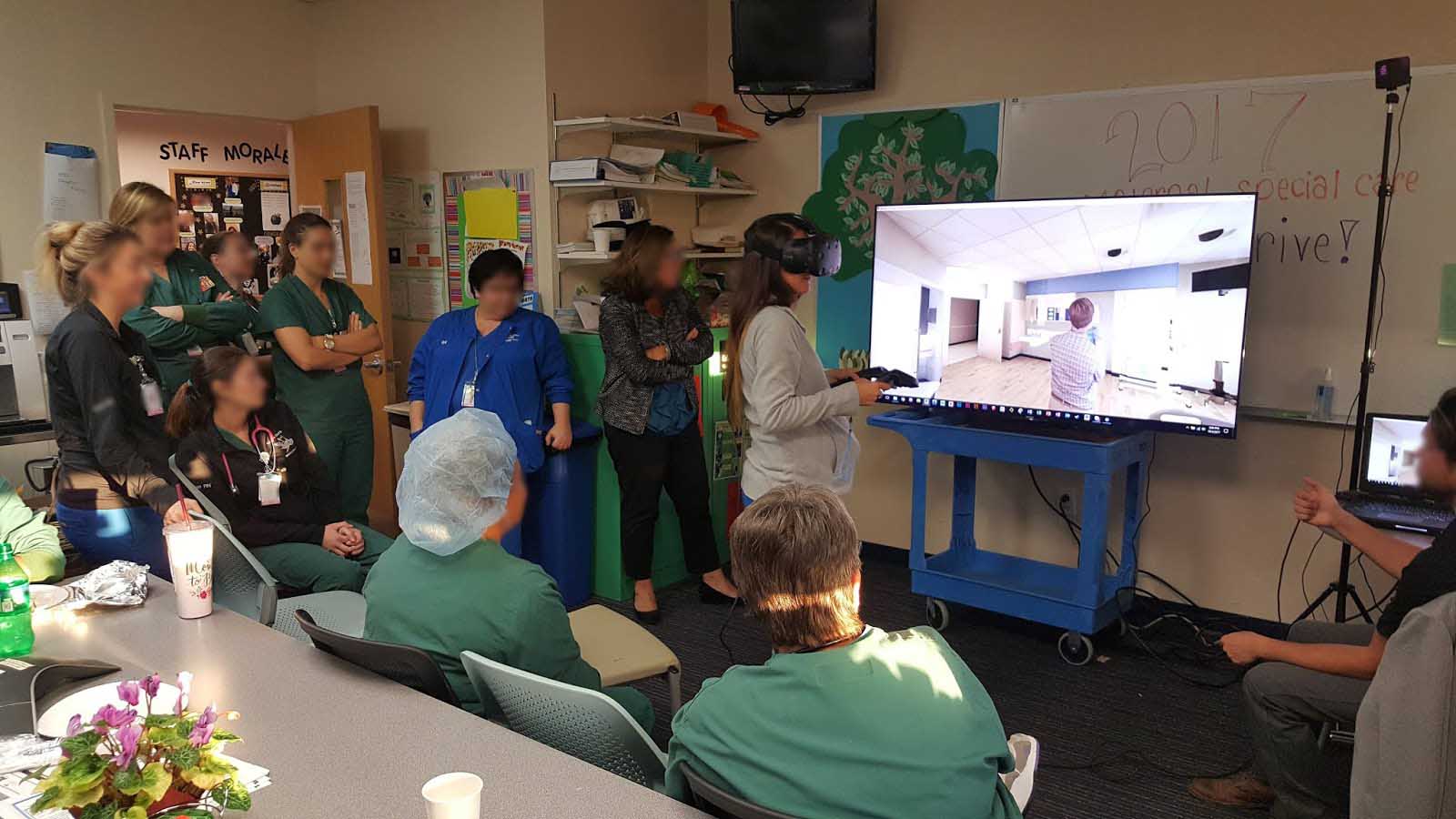 Image courtesy of Jeffrey A. Pinheiro (The Revit Kid)
3. Visualize in an instant
With technological advancements such as real-time rendering, you're able to view and create realistic 3D renders of your model as you go along. This makes it easy for you to communicate your ideas with clients in a way that is understandable to them. Being able to show clients exactly how a building, or even each individual room, will look is a game-changer for the industry.

With rendering tools such as Enscape that work directly within your modeling tool (like SketchUp), you can visualize your project as you are designing it without the need to import or export files. This helps streamline the design process and makes it easier for clients to provide feedback and collaborate more effectively.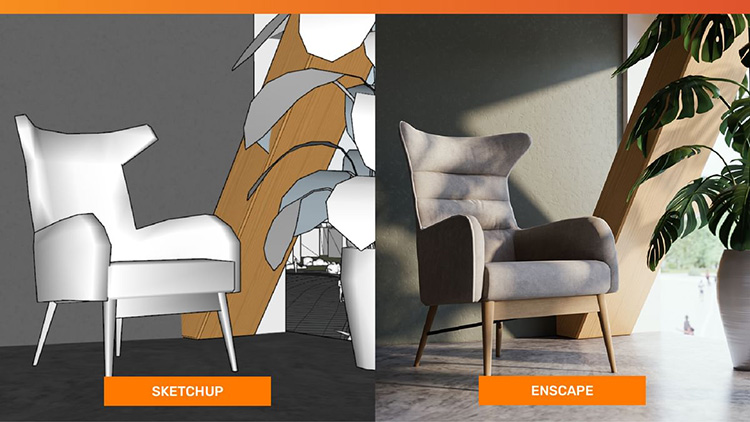 SketchUp model on the left. What you see in the Enscape rendering window.
What's more - long gone are the days of having to pore over unwieldy blueprints and go back to the drawing board if something isn't right. Now, design changes can be made instantly, and digitally, allowing the client to feedback in real time and see updates as you make them until everyone is satisfied.

This can mean anything from amending the structure of a room and removing walls to changing the materials of kitchen worktops from laminate to wood. A client might be particularly interested in using sustainable materials when designing their home; with technological advancements such as real-time visualization, you're able to demonstrate these specific aspects of interior design through immersive experiences.

Not only does the use of technology in this instance save time and effort, without the need to go back and forth between designer and client all the time, but it also has cost efficiencies in materials and physical wastage, making it a much more sustainable way to work.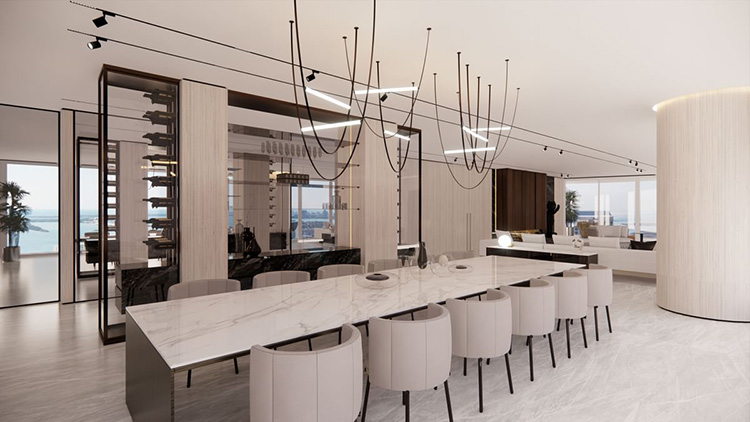 Enscape rendering credit: Adriana Lacruz, Lacruz Design Studio
4. Enjoy collaborative working opportunities
With the accelerated adoption of remote working in recent years, technology is enabling teams to collaborate with considerable ease, regardless of their location.

Using a tool like Miro is a great way for designers and architects to easily share ideas and collaborate on projects in one centralized place. Miro is an online collaborative whiteboard platform where ideas and brainstorming can be contained in one easy-to-access resource.
Enscape is another technology where project changes can be annotated and tracked directly through the tool. 3D visualizations can also be shared easily with team members and clients to provide transparency, enable collaboration, and allow for better-informed feedback.

And, of course, where would we be without work management tools? There are a wealth of online-based tools that can keep teams aligned and projects on track. Monday.com, Asana, Trello, and Basecamp, are just a few tools used by teams looking to enable better collaborative working environments and improve day-to-day efficiency. Gather is also another tool popular with designers that helps teams keep track of projects and easily share resources.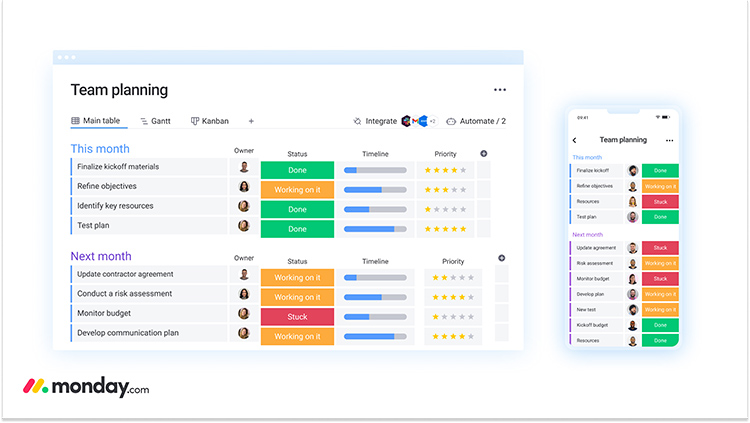 Monday.com calls itself a work operating system
Final thoughts
The possibilities of technology in design are endless, with new tools and add-ons being created all the time to make the design process as seamless as possible from start to finish.

As technology progresses at a very fast rate, no one wants to get left behind, especially when there are so many incredible advancements to make life easier, both professionally and personally. Interior design is no exception, with continuous developments in the field enabling the relationship between designer and client to be improved and mutual perceptions more easily obtained.
An understanding of how technology can help, both in creating a concept and then presenting it, is a beneficial addition to the designer's armory and one that should definitely be considered.