3D printing has evolved considerably since it was first introduced in the 1980s and is now used by numerous industries to solve various needs and real-world problems.

Architecture is no exception. With technology and printing techniques significantly improving over the last few years, architects have already started to take advantage of what this revolutionary method of construction has to offer.

In this article, we look at why 3D-printed architecture is on the rise and hear how real-time rendering technology is being incorporated into the design process.
Why is 3D-printed architecture on the rise?
The global 3D printing construction market is predicted to grow 91% between now and 2028, according to Grand View Research's July 2021 market analysis report.
The rise in the adoption of green construction projects is one of the major factors fueling the market growth. Building construction businesses are increasingly adopting 3D printing and green construction methods to reduce construction costs and build energy-efficient buildings.
Grand View Research, July 2021 Market Analysis Report
Grand View Research also states that "The implementation of 3D printing technology offers high accuracy, improved efficiency, reduced labor cost, and greater speed of construction.".
One country that has quickly recognized the benefits 3D printing provides is UAE (United Arab Emirates). Already they have set out a strategy that will position them at the forefront of 3D printing adoption. Their goal is to have 25% of buildings in Dubai based on 3D printing technology by 2030.
And in Europe and the US, it's also possible to see an increase in the number of 3D printed projects. PERI GmbH started work on the largest European printed residential building in Germany in November 2020, just two months after completing Germany's first residential project (which has since been awarded the German Innovation Award by the German Design Council). And in the US, we are already seeing printed residential homes for sale and other initiatives from companies including SQ4D and ICON.

As 3D printing offers an efficient solution to some of the challenges currently facing the AEC industry worldwide – such as affordable housing, shelter for disaster-hit regions, and sustainability, we can certainly expect to see an increase in projects starting to hit the ground.
3 benefits of 3D-printed architecture
Let's take a closer look at some of the advantages that 3D-printed architecture provides.
Lower construction costs
3D printing offers a cheaper way to build than traditional construction techniques. Reasons include the need for less energy, fewer laborers, but also the efficient use of materials. It is possible to accurately calculate the amount of material that is required, resulting in less waste and lower construction costs.

Already companies such as US-based ICON are creating 3D-printed homes at greater speed and lower costs. Providing housing to those in need and to those looking for more affordable housing options is now becoming a reality, thanks to the evolution of 3D printing.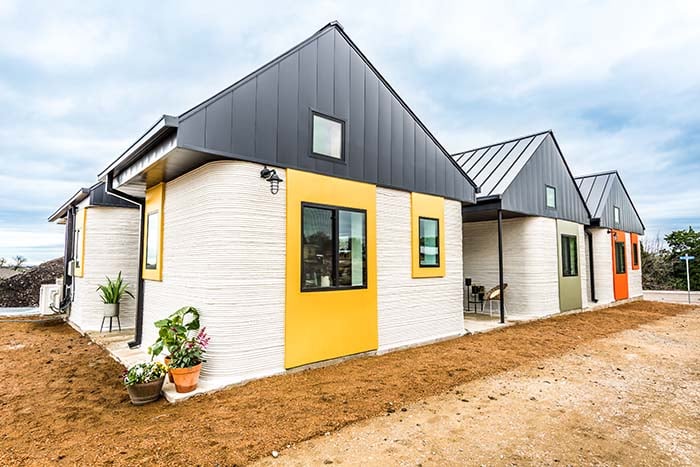 Image courtesy of ICON: 3D-printed homes for the homeless in Austin, Texas, USA
Sustainable construction
Another benefit of 3D-printed construction is that it is more environmentally friendly. Concrete is often used as the go-to building material in standard construction, but already 3D printing companies are experimenting with more sustainable options such as raw earth, biodegradable bamboo, and recyclable thermoplastics.

One company doing just this is 3D printing specialist WASP, in partnership with fellow Italian-based Mario Cucinella Architects (MCA). They have recently completed TECLA; an eco-sustainable 3D-printed habitat, which has been built with reusable and recyclable materials.
Together with WASP we aim at developing an innovative 3D-printed prototype for a habitat that responds to the increasingly urgent climate revolution and the needs of changes dictated by community needs. We need a paradigm shift in the field of architecture that gets closer to the needs of people, thus finding an answer for the "Earth" within the "earth". A collaboration that becomes the union between empathic architecture and the application of new technologies.
Mario Cucinella, Architect and Owner of Mario Cucinella Architects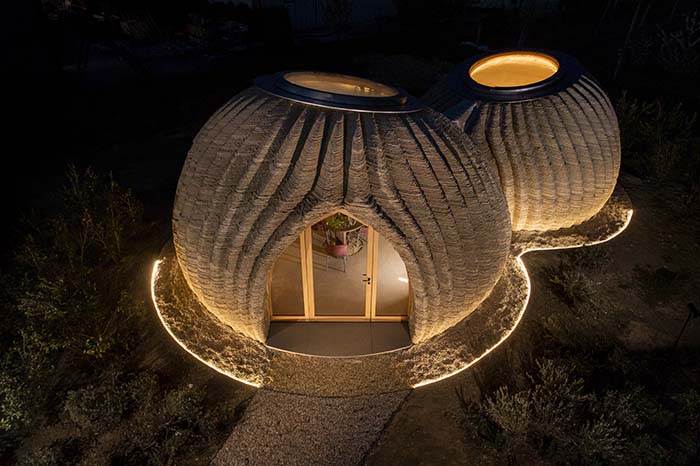 Image courtesy of WASP: TECLA 3D-printed sustainable house by WASP and Marcio Cucinella Architects

A faster way to build
Another great advantage of 3D printing is the speed of construction – a new home can be printed in a matter of days, not months, compared to conventional techniques. For example, YHNOVA, a 95m2 project in France by Batiprint3D and the University of Nantes and other partners, was printed in just 54 hours.

Mighty Buildings are another company that can print a unit in just 24 hours (more on them later on). By printing in their manufacturing facility rather than on-site, and through using their specially formulated light stone material that quickly cures when exposed to UV light, they can construct much faster than traditional construction.

Printing at speed not only helps to keep building costs low, but it also provides countries with the opportunity to construct quicker when needed – such as to keep up with the demand for affordable housing, or in disaster-prone areas where emergency shelters and new homes are required quickly.
Architects embracing 3D-printed architecture
As we've already learned from MCA's partnership with WASP in Italy, some architectural firms are already collaborating with printing technology specialists to really push the boundaries of design and construction.

One firm is award-winning US-based firm Lake|Flato. They have recently teamed up with ICON to explore how to maximize the environmental, architectural, and construction benefits that 3D printing offers. The result is 'House Zero', an energy-efficient, practical, and resilient 3-bedroom, 2,000 sq-ft home in Austin, Texas. House Zero is built with ICON's next-gen Vulcan printing technology, which has the capacity to print much larger (up to 3,000 sq-ft) and faster than their previous models.
House Zero has allowed Lake|Flato to develop our ethos of human and nature-centric design with an entirely new framework. It's been a thrill for our team to design this home of the future and explore new ways to create high-performance shelter that celebrates craftsmanship, seeks increased efficiency and eliminates steps in the construction process. This welcoming, practical home design expands the performance capabilities of 3D printing technology and is unlike any other home we've designed to date.
Ashley Heeren, Associate, Lake|Flato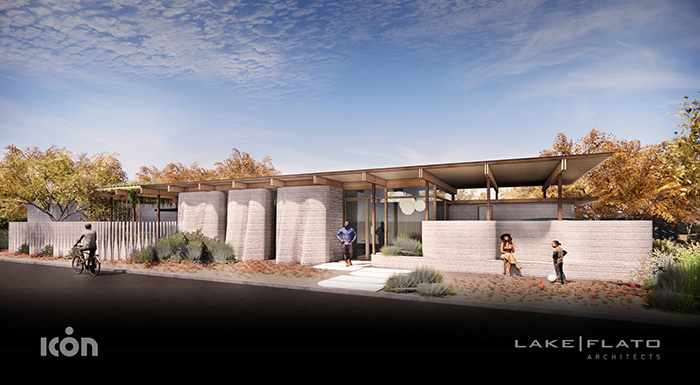 Image courtesy of Lake|Flato: Rendering of 'House Zero' by Lake|Flato and ICON
Utilizing rendering technology to aid design
Also exploring this relatively new type of architectural practice are Californian-based Ehrlich Yanai Rhee Chaney Architects. EYRC has partnered with Mighty Buildings, a construction technology company also based in California, to design and print a single-family home and ADU (accessory dwelling unit).
To aid them with the design elements of this project, EYRC is utilizing Enscape's real-time rendering technology. EYRC's Jessica Chang, Associate/Digital Practice Lead, and Ji Won Nam, Project Manager, talked us through the project to explain more.

"The Mighty House Single Family Home and ADU designed by EYRC Architects utilizes 3D printing technology to create an affordable, net-zero modular home in partnership with Mighty Buildings. The product line includes homes of various sizes between 865 to 1440 sq-ft. This is achieved by employing the Mighty Kit System; essentially it is a kit of parts which include 3D-printed panels, glazed panels, a prefabricated bathroom, a full kitchen, and all interior finishes to be delivered and assembled on site" explained Ji Won Nam.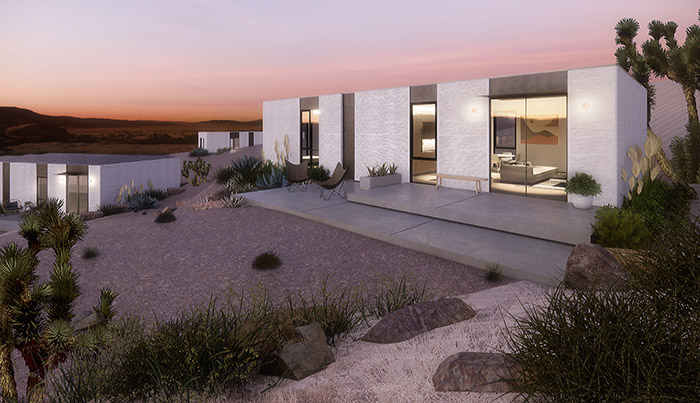 Image courtesy of EYRC and Mighty House: The Mighty House Single Family Home and ADU designed by EYRC Architects
"Early in the process, we were able to use Enscape to share the design intent with the Mighty Buildings team. For example, when we developed different striated 3d-printed textures on the envelope, Enscape renderings were critical to compare the shadow effects of these options. We also used Enscape to coordinate MEP items, visualize material transitions, and locate areas that need special attention and detailing."

"One unique aspect of the Mighty House project for EYRC is that the end site is unknown. We used Enscape to generate renderings of the house in different landscape settings so that prospective clients can envision the ADU in their own backyard. The Enscape horizon settings and asset library helped us create scenes in a forest, desert, and coast" explained Jessica Chang.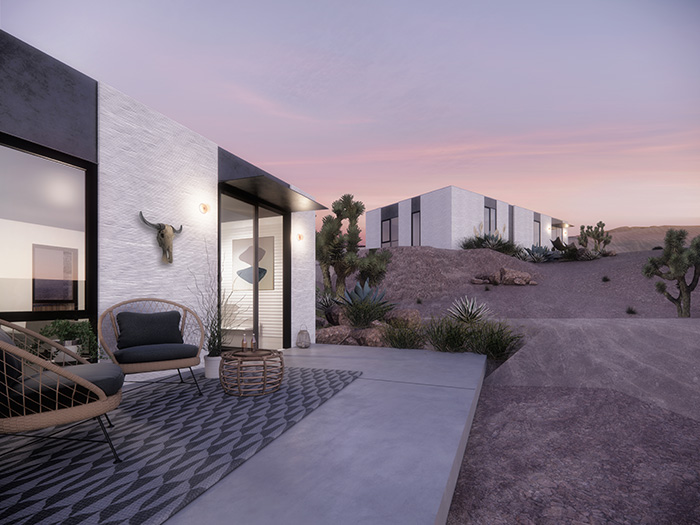 Image courtesy of EYRC and Mighty House: The Mighty House Single Family Home and ADU designed by EYRC Architects
Ji Won Nam describes the latest project phase: "We are currently working with Mighty Buildings on a full-size mockup at their headquarters in Oakland, California. Joint sizes, attachment points, and flashing details are being finetuned to ensure ease of transport and install. Finish specifications are updated to ensure there are no issues with procurement or lead times."
"With Enscape we can make these updates easily and visualize the change prior to approving the update with the client. Enscape has been effective in helping us communicate with our client in a clear fashion. It has also helped us as a working tool; we are able to work to validate updates to the design and make quick decisions based on clear and real-time visualizations."
Watch this space
When 3D printing came onto the scene 30 years ago, the idea of one day living in a 3D-printed home would have been almost unimaginable. But it's already a reality for some as inhabited homes and commercial units start to pop up around the world.
By taking this revolutionary technology and combining it with real-time rendering, AEC has the opportunity to truly push the boundaries of design, engineering, and construction and offer solutions to some of the challenges the industry and world are currently facing.

Recommended Reading: